Gucci spearheads a survey of Paolo Di Paolo's photography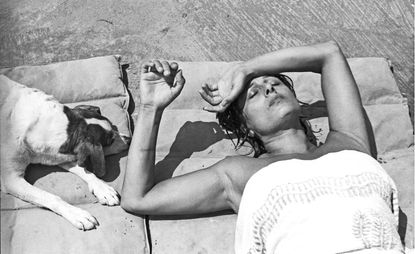 (Image credit: Paolo di Paolo)
Wallpaper* Newsletter
Receive our daily digest of inspiration, escapism and design stories from around the world direct to your inbox
Thank you for signing up to Wallpaper. You will receive a verification email shortly.
There was a problem. Please refresh the page and try again.
As far as family secrets go, hoarding a vast photographic archive of mid-century Italian history is perhaps one of the most graceful. Imagine the surprise of Silvia Di Paolo when, some 20 years ago, she wandered into the cellar of her parents' home in search of a pair of skis, only to find 250,000 negatives that had been taken by her father, Paolo Di Paolo.
A successful publisher, he had said nothing about the period when he chronicled Italy's myriad contradictions for the leading intellectual magazines of the day, but such reticence has not gone unrewarded. Today, Gucci's Alessandro Michele is spearheading a survey of Di Paolo's work after discovering some of his pictures for sale at Museo del Louvre in Rome. A monograph was published last year and an accompanying exhibition entitled 'Paolo Di Paolo: Lost World Photography 1954 – 1968', is open at Rome's MAXXI National Museum of 21st Century Arts, supported by Gucci and curated by Giovanna Calvenzi.
Born in 1925 in the small town of Larino, southern Italy, Di Paolo moved to Rome on the eve of the Second World War with dreams of becoming a photographer. He snapped prisoners at Porto Azzurro and Augusta by day and circled the old aristocratic ladies dressed up for the balls by night. His camera clicked at the old and the nouveau. He documented the poor on the streets with the same respect as visiting Hollywood starlets. The only photographs taken on the set of Pier Paolo Pasolini's The Gospel According to Matthew were his. 'The camera allowed me to express and create a new approach that didn't exist before. For the first time in Italy, photography started to focus on society, the physical person,' Di Paolo says.
Much of his work was done for Il Mondo, an independent and nonconformist magazine produced on newsprint that launched in 1949. It documented with enthusiasm the modernisation of the country yet was aware of the inequalities and social tensions this would bring. Its editor, Mario Pannunzio, taught Di Paolo what a good picture was. 'A photograph didn't need to be beautiful, it needed to be good,' Di Paolo says. The intellectuals and philosophers writing for Il Mondo changed the approach to picture making. The photos were independent of the text. Just as Instagram has stripped photography from its context, Pannunzio encouraged his photographers to use their cameras like typewriters. 'The image must be the protagonist with no interference,' Di Paolo writes in the catalogue for the show.
Reprinted from the original negatives, there is a stark freshness to the pictures on display. The prints are shown in frames without glass. They reveal a post-war country searching for new distinctions; women wear veils on their heads while carrying baskets in Campobasso, in another, two men on Vespas ogle girls wearing mini-shorts. Images earnestly evoke the rhythms of sea and sun, alongside the sex and glamour staged at nearby Cinecittà Studios. A boatman glances at a sunbathing girl on a neighbouring vessel, another captures the burgeoning breed of photographer – the paparazzo – snoozing at a café table on Via Veneto. The real Roman Holiday.
A section of the show is dedicated to the photos that Di Paolo shot for the magazine Il Successo in 1959. Working alongside Passolini, Di Paolo became an anthropologist, uncovering the diverse range of dialects and customs along the Italian coastline in a travel feature La lunga strada di sabbia ('The Long Road of Sand'). He worked and thought journalistically – with rigour and a certain pragmatism that urged him to stop taking pictures when both Il Mondo and Tempo closed in 1966. Tastes were rapidly moving towards the lurid – salacious paparazzi and magazine spreads fizzing with scoop and gossip. Comparatively, the unforced candour of his work looked tame.
Today, selfies and stolen pictures are commonplace. 'Di Paolo always respected the people in his photographs' the President of the Fondazione MAXXI, Giovanna Melandri says. 'Is it a lost world? It's certainly a world we are looking for.' In the exhibition, we see Kim Novak at the window in her room at the Grand Hotel, ironing her clothes; Anna Magnani in her villa at the Circeo wrapped up in a thick jumper, make-up free, her mouth curled up in mid-thought; Marina Ripa di Meana clad in chunky costume jewellery eating an apple. Each has a timelessness because they capture the spirit of being alive. Of being unaware of the camera.
INFORMATION
'Paolo Di Paolo: Lost World Photography 1954 – 1968' is on view until 30 June. For more information, visit the Gucci website and the MAXXI National Museum of 21st Century Art website
ADDRESS
MAXXI
Via Guido Reni, 4 A
00196 Rome
Receive our daily digest of inspiration, escapism and design stories from around the world direct to your inbox
London based writer Dal Chodha is editor-in-chief of Archivist Addendum — a publishing project that explores the gap between fashion editorial and academe. He writes for various international titles and journals on fashion, art and culture and is a contributing editor at Wallpaper*. Chodha has been working in academic institutions for more than a decade and is Stage 1 Leader of the BA Fashion Communication and Promotion course at Central Saint Martins. In 2020 he published his first book SHOW NOTES, an original hybrid of journalism, poetry and provocation.