The sustainable staying power of Swiss brand Freitag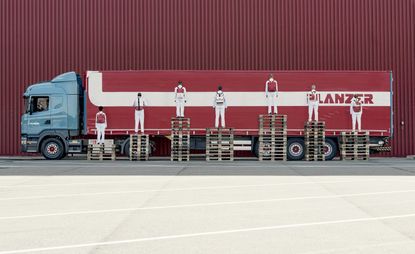 (Image credit: press)
When Markus and Daniel Freitag started their eponymous bag brand back in 1993, they were unknowing pioneers of a movement that would become seminal to the fashion industry over two decades later. Recycling used materials; adopting a circular economy; transparent production processes, these were all tenets the duo adopted when launching their brand from a shared flat in central Zurich. Here, they started turning multi-coloured truck tarpaulins and other pieces of scrap into waterproof messenger bags. Now the label sells around 550,000 items per year internationally, including a wide selection of bags and accessories as well as a clothing line, while still being based in the Swiss city.

As young professionals, the two brothers felt a need for a practical and resistant bag that could accompany them on their cycling journeys. Thanks to their background in graphic design, they assembled styles from truck tarps with a simple and straightforward design. As each piece of tarp is different, and has a unique patina as a result of its first life on the road, each bag is an individual item sporting its own fascinating roughness.

'This beauty of imperfection in our products is not really Swiss, but on the other hand we create long lasting, detail-focused quality bags,' explains Daniel Freitag. 'With another image of Switzerland, we're helping to adjust the image of Swiss design today. Environmentally friendly design wasn't at the forefront of our brand at the beginning, but came later as a way to understand the concept of the brand fully.'

Eight years ago, Freitag moved from its original central location to Zurich-Oerlikon, an industrial district in the North of the city. This was a chance for Freitag to start afresh and tailor their F-Factory NŒRD to their environmental ethos. Today, truck tarps are bought from European trucking companies and directed straight into the factory where they are washed, cut and packaged before being sold online, or through its 24 brick-and-mortar stores and numerous worldwide distributors.

Almost everything inside NŒRD is recycled. From collecting rainwater on the building's rooftop for the tarps' washing process, to taking half its heat from waste power plants and using hydro and solar electricity, the factory takes care of the environment by respectfully reusing its resources. In only one single year, Freitag saves four million litres of rainwater, enough to cover half of the usage for the tarps' washing process. The return on investment of this green laundry system however will only kick in in 2026. But as with everything Freitag, longevity is key.
With over 140 employees working in a circular economy-focused factory, the Freitag brothers felt the urge to design sustainable workwear that could be durable yet design-worthy. Because of the lack of quality natural fabrics available on the market, they decided to make their own, once again from scratch. In 2014, after touring around Europe to find the most sustainably grown materials and production partners located no further than 2,500km from Zurich, they were able to develop – with the help of a newly hired textile team – their own F-abric made of a tough base of hemp and flax added with Modal, a beechwood viscose. As the fabric is 100 per cent natural and details such as linings, labels and even threads are biodegradable, the idea is that, when reaching its end of life, the garment can be completely composted. Only the metal button of the trousers has to be unscrewed. It can act as an heirloom for future use.

'It's not that we'rere trying to save the world. We're at an educational moment and think a storytelling aspect is needed to understand the idea of circular fashion,' says Daniel Freitag. 'Only five years ago, sustainability wasn't a topic and now it's huge. People are understanding that it's worth to buy less but better.' Freitag's 'pret-a-composter' line currently includes shirts, trousers, overalls and aprons for men and women.

This year, Freitag has pushed the unique aspect of its bags one step further. Since the beginning of the month, customers can visit the newly converted Sweat-Yourself-Shop, located a short bike ride away from the renowned Freitag flagship tower made of stacked containers, and make their own personalised tarp shopper. 'We're quite excited to have this customisation experience added to our offer.' says Daniel Freitag. 'Now we have a space where you can really feel the uniqueness, choose the colours and see where the production takes place right away'. The clear, industrial space of the store acts as a mini factory where the manufacturing process is revealed in front of visitor's eyes, who can pick each piece of tarp to their taste and assemble them with the help of the Freitag staff on site.
After 25 years in the business and an expanding international market, the Freitag brothers have been able to remain independent and build a brand based on a conscious lifestyle and strong environmental values. 'We grew organically, so we were able to reinvest in our own business which I think is a beautiful story because you still own your ideas.' explains Daniel Freitag. And the biggest challenge? 'Producing in one of the most expensive cities in the world which explains the price of our products, and having to work with your brother!' laughs his older sibling.
INFORMATION
freitag.ch
ADDRESS
Freitag Sweat-Yourself-Shop
Grüngasse 21
8004 Zurich
Switzerland
Receive our daily digest of inspiration, escapism and design stories from around the world direct to your inbox