French fancy: Parisian label Ami launches womenswear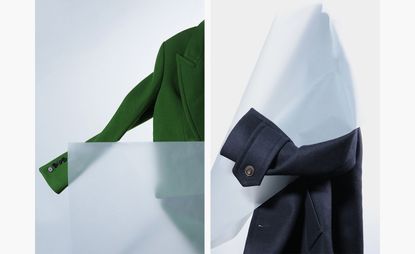 (Image credit: Aylin Bayhan)
A common criticism of the fashion system today, is that of the highly paid creative director positioned in an ivory tower, designing overly conceptual or achingly unwearable garments for the runway, unsuitable for the everyday consumer and the shop floor. Alexandre Mattiussi, who launched his wardrobe classic-focused, affordable and non-intimidating menswear label Ami in 2011 isn't someone who has time for such theatrics.

'We'll always start our collections with the simple question, "what do we want to wear?"' Mattiussi – who worked for Dior Homme, Marc Jacobs and Givenchy before launching his own brand – effusively explains. In person, the charming, affable and laid back founder is a reflection of the aesthetics of his own label, nonchalantly dressed when we meet in London's Mayfair, at Ami's Duke Street store, in a dark denim shirt and chunky Nike trainers. 'I like fashion that's creative, accessible and democratic,' he adds.

Accessibility is at the forefront of Ami's autumn collection, as for A/W 2019 the label has launched it's first fully fledged womenswear collection – an offering of classic, streetwear-subverting staples with a soupçon of Left Bank style, which were presented as part of the brand's runway show in January. Think timeless outerwear, like voluminous pea coats and double-breasted blazers, oversized tailored trousers and flowing shirt dresses, with smatterings of romantic floral print and seductive vinyl.

'It's funny; after the show, men were sending me Instagram messages asking me not to launch womenswear,' Mattiussi laughs. 'They want to protect Ami!' Its menswear fans need not fear. Ami's womenswear subscribes to an androgynous aesthetic, aimed at women who feel most comfortable in their boyfriend's shirts or jumpers, who favour an oversized fit and have a flair for suiting fabrics. In design fittings, Mattiussi often fits the same pieces on both men and women, when he shortens hems and sleeves or subtly shrinks a silhouette for the female form.

Caroline de Maigret, the epitome of nonchalant French chic was one of the first women to wear Ami, and Mattiussi estimates that one in four women have been buying pieces from the brand for seven years, mainly opting for its 'coats, shirts and trousers'. In 2017, Ami released a womenswear capsule collection with luxury retailer 24 Sèvres, before launching L'Homme Pour Femme for A/W 2018, an 80 piece collection of the brand's classics sold for women – from chunky knits to camel coats – exclusively at its Saint-Germain store in Paris. 'Globally, people wanted to buy the pieces straight away,' Mattiussi says (Ami has over 350 points of sale worldwide). 'I wanted to make sure I was going in the right direction. Women came into the store, tried on pieces and then gave us a lot of feedback.'

Ami's A/W 2019 collection is available to buy exclusively at the brand's Duke Street outpost in London, and at Liberty and Matchesfashion. The pieces on offer bring a subtly sexy, chic and refined ideal of bourgeois Paris – also a notable trend on the women's autumn catwalks. 'The show was very much about the brand's home city,' Mattiussi says. 'The Louvre, the history of Marie Antoinette, Catherine Deneuve in Belle de Jour. Paris is connected in a very classical way to timeless pieces of clothing.'

Mattiussi refers to his own design output as a 'an intimate conversation, like a whisper.' It's something that both men and women are listening to with rapt attention.
INFORMATION
amiparis.com