Fine footing: new unisex shoe brand Primury redefines the classic plimsoll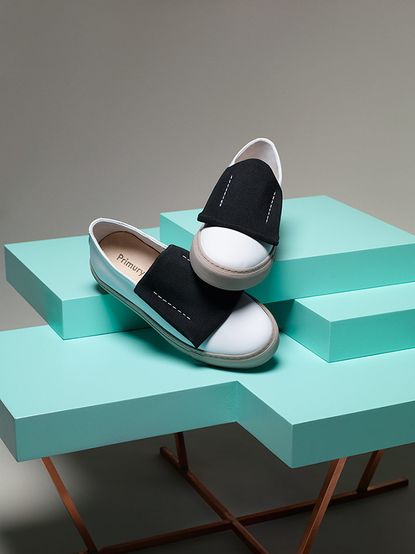 (Image credit: Marius Hansen)
New unisex footwear brand Primury puts a sartorial spin on the classic plimsoll that's been a British sporting staple since the 19th century.

Working with leather, striped elastic or stitched uppers and rubber soles, Primury (opens in new tab) (coined from the word primary or first), offers an avant-garde twist on fashion's current slip-on sneaker phenomenon, which is no doubt why they are exclusive to Dover Street Market (opens in new tab) for their debut A/W 2015 season.

'Collection Zero is inspired by early memories of exploring boundaries and innocence,' says co-founder Ben Read. 'Over time these become hard to recall or forgotten. Primury revisits the traditional plimsoll as it takes on elements and ideas from these early memories through the three core styles - Curio, Fabl and Basal.'

The London-based collective, helmed by Read, Paul-Anthony Smith and Solene Roure, looked to the hazy black and white photography of Japanese lensman Daido Moriyama for the collection and accompanying campaign. 'Moriyama captures grainy moments as if part of a memory,' Read explains. It's a fitting reference to the original sandshoe's far-reaching legacy, having first washed up on England's pebbly beaches in the 1830s, before being adopted by the nation's school children for physical education classes.