Geometric precision: Noir Kei Ninomiya's mathematical designs for Moncler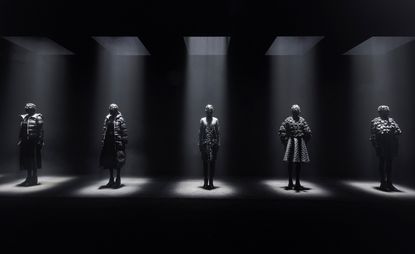 (Image credit: Moncler)
Puffers are entering a new era. The full lineup of 40 designs from the Moncler 6 Noir Kei Ninomiya collection, launches tomorrow exclusively at Dover Street Market. The line falls under the Moncler Genius umbrella; part of a series of eight collaborations with designers including Valentino's Pierpaolo Piccioli, Craig Green and Simone Rocha. Each collection will drop monthly, like an anticipated outerwear advent calendar.

Like its name, the project – which uses a drop model and celebrates a roster of esteemed brands – is in media strategy terms, genius. But, media strategy does not figure in Japanese designer Kei Ninomiya's vocabulary: he rarely gives interviews, is underactive on Instagram, and doesn't have a website… so who is this incognito designer who favours a monochromatic black colour palette? He studied fashion at the Royal Academy of Fine Arts in Antwerp, began his career as a patternmaker at Comme des Garçons and launched his namesake label Noir Kei Ninomiya with Comme des Garçons in 2012. His first show in Paris last March made major waves. And now here he is, collaborating with an Italian outerwear stalwart.

For Ninomiya, colouring the collection black, 'as my brand's name Noir Kei Ninomiya suggests,' was an obvious choice. 'I am trying to push the boundaries, and limiting colour opens the door to infinite possibilities,' says the 34-year-old designer.

From the darkness, the snow white feathers of down padding were at his disposal. 'As I had never crafted duvet before, it was a new experience,' adds Ninomiya, who set about studying the basic designs of Moncler in his research process. 'Then I focused on experimenting with the volumes that duvet can give.'
The collection features 40 pieces, all coloured in Noir Kei Ninomiya's signature black
The process of finding those new volumes proved highly complex. Described as 'wearable geometry', many of his garments are composed of multiplied modules, like a cell reproducing itself in crescendo. 'Usually I conceive the smallest motif and put several pieces of them together. Then they develop into a certain shape gradually,' he says of the organic process behind his meticulous, puzzle-like creations.

Visually, his work recalls the mathematical op art of Victor Vasarely, who calculated diminution and enlargement of motifs analogically. Sound-wise the right reference could be the music by Michael Nyman or even JS Bach: a shower of evolving refrains composing a melody. 'I'm shaping a kind of seamless garment by putting small cells together instead of sewing yokes.'

His obsession with 'modules' is not only about the construction of the pieces: each of the designer's collections is based on an assemblage of fragments. 'Each piece is important and an indispensable member of the whole collection, it's not possible for me to pick out one particular piece as a reference,' he explains. 'When I work on one garment, I think about the proportion of the whole look or the entire collection at the same time.'

The sculptural creations are made of shiny nylon, which for Ninomiya represents the most idiosyncratic material of the house. Leather and knitted yarn join the nylon. For certain pieces, duvet-stuffed tubes are braided as knitwear. The surface of the puffer jackets evoke flower fields or quilted French bedspreads. The pleated, gathered or quilted skirts — whether in nylon or leather — evoke giant bells. Innovative, enchanting, magical… in Moncler 6 Noir Kei Ninomiya, his unique technique takes on a new dimension.
INFORMATION
For more information, visit the Moncler website and Dover Street Market website
Receive our daily digest of inspiration, escapism and design stories from around the world direct to your inbox
Minako Norimatsu is a Japanese journalist and consultant based in Paris. Extremely curious about everything creative, her field ranges from fashion to art, dance, hospitality and travel. She has interviewed many Japanese fashion designers and artists for Wallpaper*, as well as non-Japanese creatives whose inspirations are drawn from Japan.