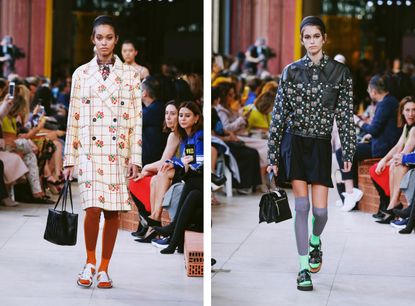 (Image credit: Press)
Scene setting: Seating arrangements at Miu Miu always hold a particular significance. Miuccia Prada never seems to just accept the standard white benches or gilded chairs commonly present in most Paris shows, eschewing them in favour of more creative – and often luxurious – options. There have been brocade sofas. Decadent pouffs. Purple feathered chairs. In one instance, even beds (a very particular kind of guilty please stems from watching a fashion show reclining like a Roman). This time though, guests were seated in a vulgar variety of garden chairs! Yes, the white plastic kind present in every suburban home in the Western world. Why? Well, because her collection was a witty exploration of the kind of clothing that has been present in every suburban teen's wardrobe since the fifties.

Mood board: Remember Saved by the Bell? My So-Called Life? Grease? Those were the conceptual inspirations behinnd a collection that explored the varying – and often recurring – inspirations of teen girls' wardrobes. Think grungey oversized lumberjack shirts (the kind that Demna Gvasalia has loved to appropriate ever since he started his brand) thrown over a pleated uniform mini skirt worn with knee-high socks. Who hasn't seen – or worn – this? That doesn't mean the collection was fully inspired by the very on-trend nineties. There were also prom dresses galore, mostly in fluffy materials and sugary hues. Sixties and seventies-inspired trench coats and short shift dresses. And noughties-influenced dresses worn over trousers. It could have felt gimmicky and literal but, this being Miuccia Prada, it was never going to be like that. Every single piece was bearing the mark of true Miu Miu quirkiness, from hi-tech materials to prints inspired by seventies Italian textile design, to slightly grandmother-esque flower patterns.

Best in show: This was a collection that played essentially on the gender-bending aesthetic, the kind that will see a big manly wool coat thrown over a lacey bubble gum pink voluminous prom dress – accessorised with an orange checkered shirt 100 per cent Miuccia and Birkenstock-type sandals worn over pink socks, that was definitely the show's highlight. Elsewhere, there were graphic knitwears (for the most politically-slash-arty conscious student types out there), skirts with surprising patterns mixing checks and wallpaper-style flowers, and the above mentioned lumberjack motifs in sleeveless shirts, jackets and long dresses. With the layered styling, it all made up for a lot of information. Broken down into commercial pieces, though, it will clearly appeal to the whimsical, girly Miu Miu client.