Alexander McQueen S/S 2018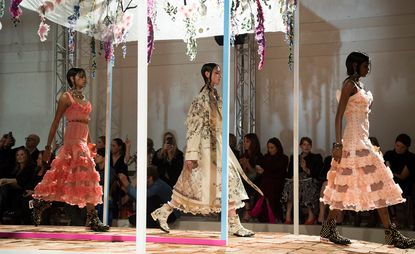 (Image credit: Jason Lloyd-Evans)
Scene setting: In today's fashion landscape, it's hard to think of a more quintessentially British designer than Sarah Burton. In the most classic sense of the word, she never fails to capture all that makes British fashion – and Britain – truly unique, which is why she is such a perfect match for Alexander McQueen. The brand's show yesterday was a perfect combination of that. As guests arrived at the Orangerie du Sénat – a sort of oversized conservatory in the heart of the Jardin du Luxembourg – they were surprised by a set made up of red English bricks and wooden pergolas, with tulle ceilings embroidered with hundreds of multicolour fabric flowers. Clearly, something 'très anglais' was cooking in this Parisian show.

Mood board: The gardens of Great Dixter – that was the inspiration behind both the set and the collection. Backstage before the show, Burton spoke of 'uncontrived floral planting, meandering borders and tangles of vibrant, exuberately coloured blooms drenched in rain and warmed by sunlight'. These meandering blooms all showed within the collection, starting with the brocade trenchcoats that opened the show and the beaten-down Barbour-inspired jackets (do anyone but English aristocrats really wear their clothes to decay?) But it was not all about daily strolls through the British countryside and cosy gardening: the second part of the show was all about ball gowns... and what ball gowns! With a New Look silhouette, sporting ultra structured bodices – corsets, almost – and entirely embroidered with the lushest blooms, they were fit for a princess, or a rock 'n' roll queen. Because they felt wonderfully modern. And, let's face it, not everyone who can create a ball gown with a truly contemporary feel.

Finishing touches: 'She has embellished her wardrobe with keepsakes from her grandmother's jewellery box' is how Burton described the McQueen woman's use of costume jewellery this season. Trinkets were everywhere, not only seen in silver and gold chokers, bracelets, cuffs and earrings, finished with charms in crystal and pearls, but also embroidered in quilted, patent-leather bags and, most impressively, trapped inside the clear PVC heels of the biker boots. There's no doubt about it, a new best-seller is born.