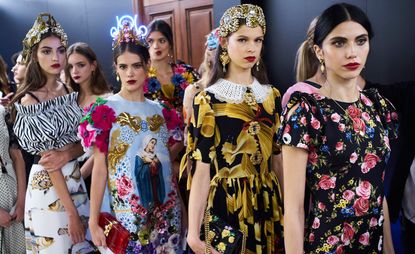 (Image credit: Dolce & Gabbana)
Scene setting: Guests at the Dolce & Gabbana show were treated to a giant coconut stand selling raw slices of crispy fruit and giant bowls of coconut juice before walking in the show space which was dressed this season with bananas hanging from palm trees and a giant neon sign shouting 'Tropicana Italiana'. This, however, was just the start of the happy chaos, as a gang of street dancers raided the runway stomping the floor and doing back flips to typical Sicilian music before the models hit the runway.

Mood board: The clothes at Dolce & Gabbana were just as full-on this season as the set, as the designers poured the proverbial kitchen sink onto every bedazzled look. Officer style jackets came crusted with crystals, dripping in ornate embroideries and jingling with charms. Dresses crafted from pasta prints, fish prints and ice-cream prints were worn with hotel slippers, fringed back pumps and crowns of flowers, and tiaras tangled with LED lighting.

Best in show: Though at times a tad too much, Dolce & Gabbana's infectious exuberance worked beautifully on many pieces including the sensational sparkling outfits crafted from multi-colored coin-sized sequins that hugged the body in flounced 1940s style dresses, body skimming fishtail skirts and playful short dresses.