Moncler Gamme Rouge S/S 2016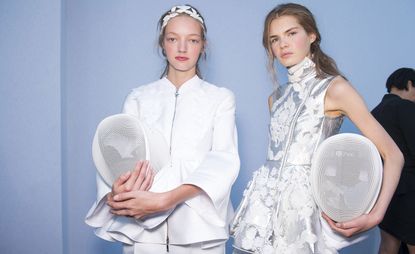 (Image credit: Jason Lloyd-Evans)
Scene setting: Giambattista Valli rolled out an impressive full country meadow – including mossy corners and tufts of wildflowers – in the middle of the Grand Palais for his latest collection for Moncler Gamme Rouge. Despite the rough and tumble scene, Valli went super sophisticated, sending his maidens out in short, flared, sweet confections of lace and embroidered tulle that was just right for a midsummer's night dream.

Best in show: The workmanship was exquisite in this show, but we liked it best when Valli stuck to the Moncler outdoor brief: he cut a fantastic dress and matching coat, for example, from clear vinyl embroidered with huge white lace that created what could easily be the world's most beautiful rain outfit.

Finishing touches: With all the jazz happening from the knee up, Valli kept things very low key from the ankle down. His girls may have been sporting glorious frocks, but they stomped through the fields in sensible white or black leather, sport lace up shoes with woven or embroidered sides.
INFORMATION
Photography: Jason Lloyd-Evans