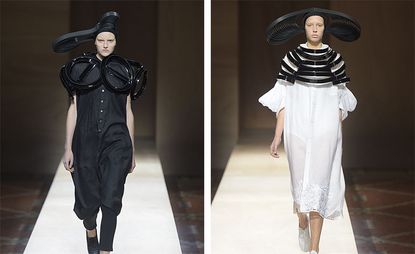 (Image credit: TBC)
Mood board: Cages over cotton seemed to be the prevailing theme in Junya Watanabe's spring collection where the Japanese designer took a basic, mannish shirt as his key silhouette but then clamped down on it with a series of shiny patent leather strips that wrapped around the models torsos.
Best in show: Those men's shirts looked great in their elongated and exaggerated dress forms, but Watanabe's best moment in this collection was more jungle-esque. Half way through the show he introduced a brief series of animal printed textiles that hung over the model's shoulders like wild pelts with gauzy oversized shirts and black jeans.
Finishing touches: The headgear at a Junya show always deserves its own special fashion chapter. This season Watanabe played with bands of concentric circles that bounced over the model's heads like giant Slinkys. Also noteworthy: the enormous vertical tower hats in black vinyl that looked like upside down flower vases.