Loewe A/W 2020 Paris Fashion Week Women's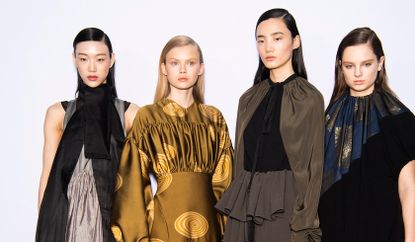 (Image credit: Jason Lloyd-Evans)
Mood board: 'Illusions of volume', summarised Jonathan Anderson backstage to a heaving scrum of journalists, of the focal point of Loewe's A/W 2020 collection. Silhouettes were extreme, puffed and padded: a series of opening floral jacquard dresses with plunging bibs, ballooned around the waistline, sleeves bloomed from the shoulders of tailored jackets, dresses ruched around flat bodices, hats were formed from an explosion of ostrich feathers. Anderson delved into the Madrid-based house's archive, looking at exaggerated volumes from the 40s and 50s and the odd 'lost in translation' silhouettes produced through impersonating Parisian couture. The long sleeve of a knitted dress cascaded with beaded flamenco ruffles. Anderson was also fascinated with the purity of form and stripping back the silhouette. Fluid dresses, voluminous pea coats and balloon sleeve tracksuits were presented in a variety of different fabrics. 'There's something I like about this totemic look,' he added. 'It's a pushed silhouette, an experimental silhouette.'

Team work: Anderson collaborated with radical Japanese ceramist Takuro Kuwata, who received a special mention at the 2018 Loewe Craft Prize, who pushes traditional form by adding stones to clay mix or catching the glaze of vessels with needles. Kuwata created sea anemone or amoeba-like forms which were suspended from soft pillow-like clutches, and knobbly ceramic breastplaces which were used as fabric-scrunching bodices. 'There's something I like about how meticulous Kuwata's craft is,' Anderson explained.

Best in show: 'It was really about getting the noise out,' Anderson said of the silhouettes. 'Thinking about something just being a jacket.' Loewe's double-breasted pea-coat, fastened with delicate gold buttons, and with a gently ballooning skirt, is all the Loewe women will need for winter.