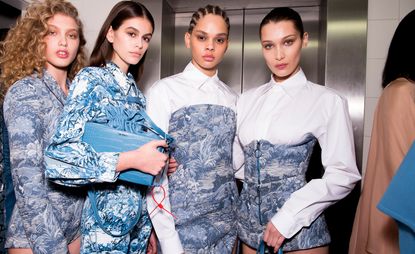 (Image credit: Jason Lloyd-Evans)
Mood board: The Pavillon Cambon-Capucines has hosted many a fashion show, but none have created such riotous style scenes outside its entrance as last night's Off-White show. The hoards of fans vying to get into the space are a testament to how far its founder Virgil Abloh has captured the zeitgest with his streetwear-come-couture sensibility. With a pop-up café at Le Bon Marché and the launch of the women's version of Off-White's Nike Jordan Air Force 1 today, the designer has been popping up all over Paris Fashion Week. For A/W 2018, Abloh brought an equestrian chic to his sportswear sensibility, with models of the moment Bella Hadid, Kaia Gerber and Hailey Baldwin taking to the catwalk in ornate horse-motif tapestry bustiers and jackets and riding boots, scuba suits and see-through net dresses.

Best in show: Abloh has been evolving his aesthetic season after season, moving beyond the streetwear and logo-focused look he originally gained cult status for and moving towards a more sophisticated range of references. For A/W 2018, he opened up his design conversation to the more demure customer, with those chic capes, Grecian draped dresses and wonderfully embroidered tapestry coats.

Scene setting: In the show space at the Pavillon Cambon-Capucines, nets of white balloons hung above rows of seating, giving the sense that guests were arriving as a party was about to begin (a feeling only emphasised by the gauzy party gowns that appeared on the runway). Like a couture salon, models strode down an ornate curving staircase onto the runway, before assembling on its stairs for the show's finale.