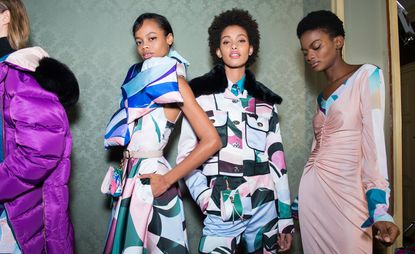 (Image credit: Jason Lloyd-Evans)
Mood board: The brand staged it's A/W 2018 show in the resplendent rooms of the Palazzo Litta in Milan, a setting perfect for a brand associated with the jet set life style of the high and mighty, and those popping on private jet for a ski trip in Switzerland. Pucci is intrinsically linked to alpine wear (luckily for the brand, puffer jackets are also the outerwear du jour), its founder began designing the colourful prints that the brand has become synonymous with while giving ski lessons in Zermatt. For the label's second season without a creative director at the helm, it presented a collection bursting with luxurious lounge-wear, like quilted dressing gowns and turbans, bright caftans and sexy lace slips. Plus Pucci print puffer jackets and long capes — alpine pieces for the crème de la crème.

Team work: Pucci was preoccupied with the American starlets that wore its designs, like Marilyn Monroe, who favoured the brand's brightly coloured blouses. For a high dosage of Hollywood glamour, Pucci collaborated with fine jewellery house Bulgari, showcasing a series of colourful and geometric archive pieces from the seventies. The Roman house is renowned for incorporating gemstones into its designs in unusual colour combinations (a Pucci attribute too) and the high jewellery designs were encrusted with coral, jade, amethysts and green enamel.

Best in show: There was a pared-back Pucci sensibility to the looks that opened the show, like a magenta cashmere coat with a wide blue collar or a sleek turquoise cape. For the less ostentatious dresser, they offered an elegant entry into the brand.