Dries Van Noten A/W 2017
The Belgian designer delves into his extensive print archive for his 100th show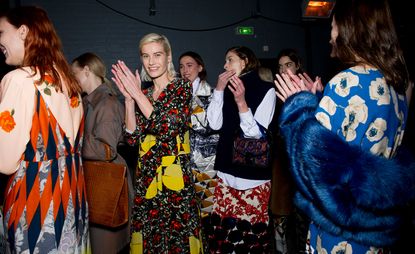 (Image credit: Jason Lloyd-Evans)
Mood board: Dries Van Noten was in a nostalgic mood. Which is not something most designers can afford. But then again, Dries is unique. And he has reason to feel nostalgic: this season, the Belgian designer staged his 100th show. For the occasion, he delved into his own archives to unearth some of the best prints of his previous collections. Some of them were used whole, in the same fabrics as the originals, some of them mixed with others, some of them painted on with new patterns. The result, if easier, was a beautiful synopsis of all his career, featuring sublimely cut trousers and jackets, men's shoes, coats, scarves... In short, the reasons why we all keep going back to his brand season after season.

Best in show: It was more of a white jeans and derbies kind of season than a velvet-and-pearls one, but there was still something for the louchest of Van Noten's clients. Namely, the quilted velvet coats, which mostly came in rich colours (tarnished gold, tangerine and terracotta red will prove irresistible to hardcore Dries groupies) and unexpected print mixes. There were also one or two great (fake) furs in bottle green and purple. As for the rest, most of it was great basics, like crepe dresses and wide shouldered blazers (which, as the designer likes to remind, he did way before Vetements).

Team work: This season also marked the 25th anniversary of Dries Van Noten's ongoing collaboration with his colleague and friend Etienne Russo, the creative mastermind behind the Dior Homme and Moncler shows, among others, who has been organising Dries's shows from the very beginning. For the 100th show, he started the casting last October, calling some of the designer's favourite longtime models. Needless to say, they all found time in their busy schedules to be here yesterday. There was Nadja Auermann, Carolyn Murphy, Alek Wek, Erin O'Connor... They, as much as Dries, inspired a long standing ovation at the end of the show.