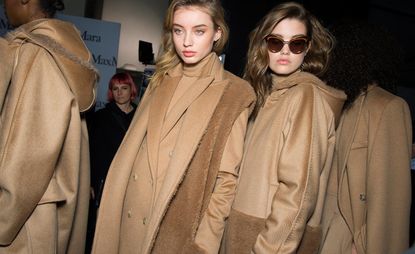 (Image credit: Jason Lloyd-Evans)
Mood board: Awash with monochromatic autumn shades – from red to brown, black to Max Mara's signature camel – this collection was made up of enduring and elegant wardrobe staples, such as suits, double-breasted coats, pencil skirts and chunky knit sweaters. Creative director Ian Griffiths took inspiration from Slöjdföreningen, the campaigning body set up in Scandinavia in 1845 and tasked with improving standards in domestic design. Its treatise was that objects should never resemble anything other than their own intrinsic form. In terms of the pieces in Griffiths' collection, these forms have never looked better.

Team work: Max Mara collaborated with DJ Johnny Dynell on a soundtrack which layered the classical sounds of Vivaldi with a modern Scandinavian dance beat.

Finishing touches: The ideas decreed by Slöjdföreningen restricted superfluous embellishment, but a little surface detail was still seen here in soft double-handled leather bags, finished with overflowing and detachable shearling trims.