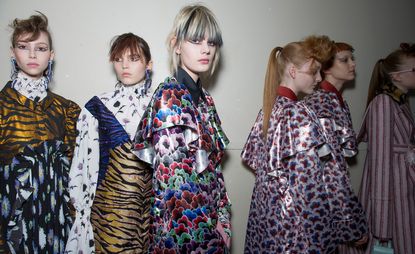 (Image credit: Jason Lloyd-Evans)
Mood board: Oversized and utility-friendly in an 1980s new wave kind of way, Kenzo gave us monster shoulder ruffles, animal prints galore, sassy short hems, boxy coats and plenty of strings, ties and peep holes. Another big theme? Shirt dressing which turned out all manner of pinafores, quilted smock front or wavy shouldered shirting mixed with edgy patent leather pieces.

Best in show: The best part of this show came in the first half where we were treated to great looking brocade on sweeping robe coats, zigzaggy knitted two pieces, and some righteous cotton blouses.

Finishing touches: Kitten heeled zebra print pony skin boots sound like a lot but the Kenzo team has no fear for a pattern smash up. Also key to the new look is a pair of punk sunglasses coated with candy-like glitter.