Fashion mail: the brightest and boldest show invitations from the men's S/S 2016 season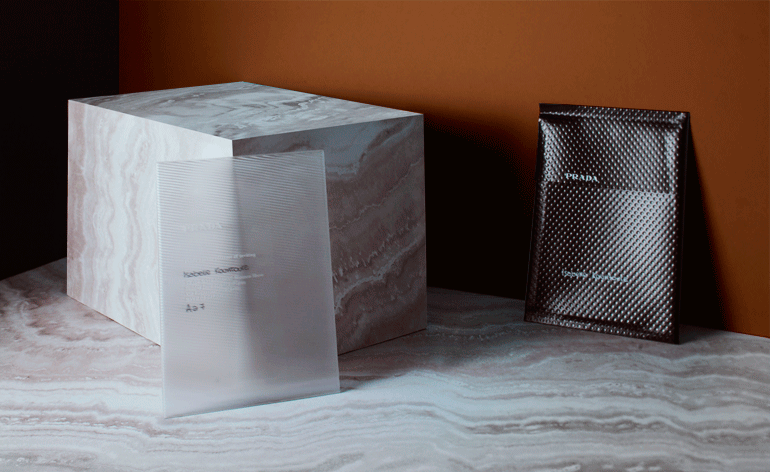 (Image credit: press)
Prada: Miuccia Prada's alluring S/S 2016 invitation comprised a trio of acetate sheets that created a lens effect when moved over each other. Ensuring their safe arrival was a black plastic envelope with a press effect
Dior Homme: M/M (Paris) quoted Swiss psychiatrist Carl Jung – 'in all disorder a secret order' – on its illustrated poster-sized invitation
Paul Smith: Sir Paul Smith championed an 'independent mind' for S/S, with this mantra adorning a luxurious, black cashmere handkerchief
Yohji Yamamoto: The designer set the tone for his Paris show with a brown paper bag invitation. On one side, a sketch of a near-naked man clad in hot pants declared 'I'm for rent', with show details on the reverse
Louis Vuitton: Louis Vuitton delivered its spring/summer show details on a grey mountboard, debossed with its signature monogram pattern, and names elegantly scribed overleaf in navy blue ink. Kim Jones also enclosd a second invitation – letter-pressed with a blue rope motif and edged in blue - that summoned us to Paris boutique Colette to view the house's A/W 2015 collection drop in store
Saint Laurent: The work of American artist and sculptor Billy Al Bengston was the latest to grace the next edition in Hedi Slimane's sleek series of booklet invitations. The 81-year-old artist - best known for his soft-focus, geometric paintings and association with surfing subculture - offered up the perfect visual prelude to Slimane's southern Californian soujourn
Wooyoungmi: Woo Youngmi and Katie Chung joined a number of designers looking upwards to the final frontier for inspiration this season. Their invitation, printed on textured card, depicted the moon in different phases
Kenzo: A mirror-effect duplex mountboard alluded to Carol Lim and Humberto Leon's interplanetary space race. Housed in a taupe envelope with the house's name printed in a pleasing, mint-green foil, the invitation was our one-way ticket to the cosmos. We have lift-off!
Alexander McQueen: The prologue to Alexander McQueen's S/S 2016 show was the vintage, black-and-white portrait of a tattooed man on the front of each invitation – later referenced on the runway through silk scarves in a tattoo print and complimenting cuffs. Printed on textured card with a UV-varnish, the invitation arrived in a ghostly tissue paper envelope
Coach: Stuart Vevers opted for a heavy, mountboard invitation, edged in purple, to announce his debut LC:M show. An abstract graphic – clouds billowing over a rocky texture – hinted at the psychedelic medley of textures and hues that were to come
Oliver Spencer: The London menswear brand has us seeing shapes – shapes drawn from the oeuvre of American minimalist sculptor Richard Serra to be precise. Its invitation riffed on Serra's large-scale sheet metal works, featuring a medley of red, interlocking circles and triangles on off-white card
Richard James: Heralding the Savile Row tailor's trek to Las Pozas – the pseudo 'ancient ruin' created by eccentric English poet and surrealist Edward James – was a triplex card, illustrating the silhouette of one of Las Pozas' concrete structures emerging from the rainforest
Junya Watanabe Man: The Japanese designer's theme this season was 'Faraway' – more specifically Africa. To wit, a poster invitation transported us there pre-show through an image featuring a figure standing tall over the lush, exotic landscape
Raf Simons: Mr Simons' simply elegant invitation – a subtle, white card with names handwritten and the show details printed overleaf – gave nothing away. Who would have guessed he had a blitzing techno-rave in store for us this season?
Issey Miyake: This season, Issey Miyake's menswear designer Yusuke Takahashi was enamored by photographer Yoshinori Mizutani's series Tokyo Parrots. Alluding to the collection's theme of urban nature, the invitation featured one of Mizutani's vibrant images