Merchants of Venice: Dolce & Gabbana opens a splendid store in Palazzo Torres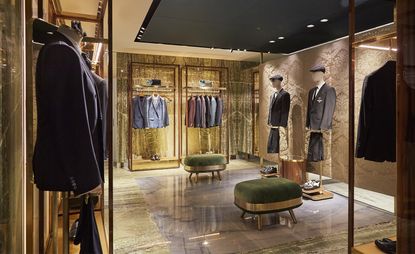 (Image credit: TBC)
Last autumn, Dolce & Gabbana (opens in new tab) announced its abandonment of a homogenous approach to retail, and embarked on evolving its global stores worldwide, with each one featuring unique design. We've had eyes on the brand's Via Montenapoleone flagship in Milan (opens in new tab), designed by Gwenaël Nicolas (opens in new tab), which opened last September, and its Steven Harris designed St Barts boutique (opens in new tab) which debuted three months later. Now we've had a look-see at the newest store on Dolce & Gabbana's roster: a majestic two-storey boutique in the 19th-century Palazzo Torres in Venice.

'In the past, we've done different things with elements of stores, like facades or layouts, but to say everything is different in every [Dolce & Gabbana] store, is very radical,' explains the Carbondale founder Eric Carlson, who designed the Venice boutique. Reflecting the house's own multifaceted aesthetic – one that blends Sicilian baroque with flourishes of humour, and cartoonish prints with sensual silhouettes – its design reflects a play on details from history and modernity.

'One of the things we learned about Dolce & Gabbana, was its approach to striking contrast: the clashes of ideas and colour, and the modern with the baroque,' says the US-born, Paris-based architect. The entrance to the boutique is a celebration of Venetian mercantile craftsmanship. Its floors are paved in multi-coloured inlays of ancient marble, while the walls are adorned with wooden bas-reliefs depicting scenes of the city's artisanal and commercial life during the late 19th century.
The store makes use of Venetian materials, including marble, Murano glass and damask
Like a tunnel through history, the modern part of the store (designed entirely by Carbondale) is entered through a 20m long hallway, lined with splendid 24ct gold glass mosaic and marbled Venetian stucco. It houses the label's accessories – which are placed on floating brass shelves – and leads to the men's, women's and fine jewellery rooms. Upstairs, more rooms house formal and evening wear.

Each section of the modern part of the boutique is signified by its flooring; red Lepanto marble mosaic for the women's area and mint green marble for the men's. The fine jewellery room features a floor mosaic in black Marquina marble, with the walls decorated in mosaics of dark blue glass with gold leaf stars. Nodding to Venetian heritage, they evoke the details on St Mark's Clocktower, a short walk from the boutique.

'We've taken this idea of the Italian villa, of different rooms, each with its own personality,' Carlson explains. 'We've created these personalities using Venetian materials - so mosaic glass walls, marbles, Murano glass, damask'. Upstairs, floors are crafted in terrazzo, while fabrics by studio Bevilacqua cover the walls. Custom pieces crafted from Murano glass, including chandeliers, sit alongside furnishings designed by Carbondale. 'It is inherently Venetian, inherently contemporary and historical, and it is inherently Dolce & Gabbana.'
INFORMATION
For more information, visit the Dolce & Gabbana website (opens in new tab)
ADDRESS
Dolce & Gabbana
San Marco, 2188
Calle Larga XXII Marzo
30124 Venice
VIEW GOOGLE MAPS (opens in new tab)