Couture report: patriotic escapism fuelled Paris' S/S 2016 Haute Couture season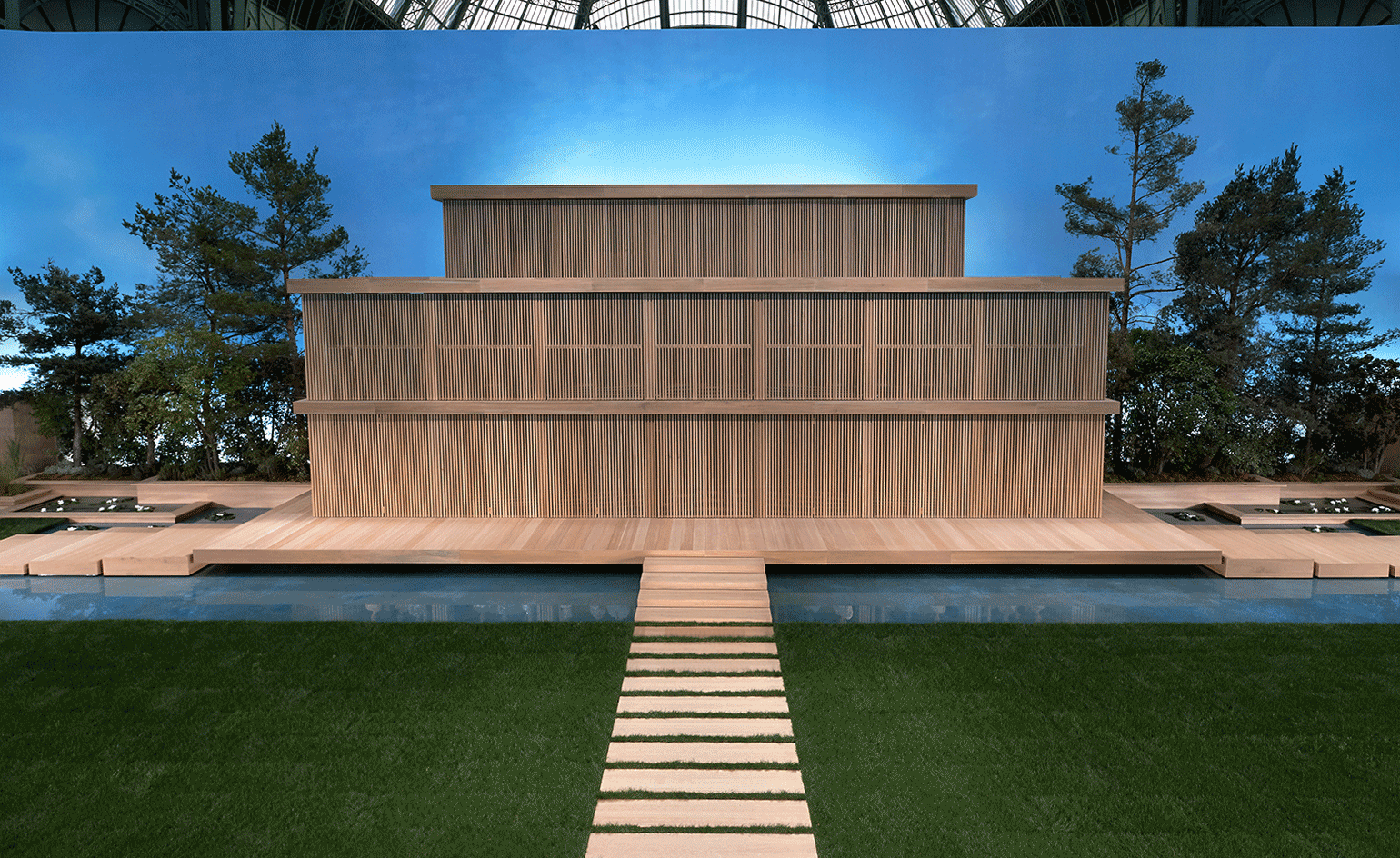 (Image credit: Olivier Saillant)
Upon the reveal, who didn't want to pack their bags for Karl Lagerfeld's tranquil Chanel oasis (pictured) or join Elie Saab's passage to India? Bureau Betak's mirrored prism at Dior quite literally refracted the sheer beauty of the Musée Rodin venue, while also offering a moment of reflection, as Bertrand Guyon sort to reconnect over the dinner table at Schiaparelli's Surrealist feast.
This collective quest for peace was also stitched into the season's purist obsession with white (from Viktor & Rolf's Cubist sculptural confections to Valentino's plissé gowns), along with a new, softer fluidity. Couture's big gowns and starched tailoring was relaxed in favour of a more louche approach for S/S 2016, ranging from Dior's slipping necklines to Jean Paul Gaultier's pyjama suiting and Valentino's kimono-sleeved robes. The mindful journey offered a silk road of visual escapism just as the Haute Couture shows should…
Chanel: If Karl Lagerfeld was to build a W* house, spring's Isay Weinfeld-style villa, suspended over an infinity pool and surrounded by manicured turf, would surely be the residential result. Lagerfeld's serene wooden block house could just as easily have been located within a far-flung Aman resort and that seemed to be the point – pure tranquillity from the chillout sessions soundtrack to the colour palette that was dominated by fifty shades of the house beige: from ecru to sand, ivory to taupe, with just a hint of deep water navy
Chanel: 'The starting point for this collection was the silhouette,' Lagerfeld decreed of his three-quarter length pencil skirts (some with a hint of glittering tulle kicking out from their back splits) or flared palazzo culottes, topped with soft, short-sleeved jackets. Oval sleeve shapes, glittering capes and twisted pleating also imbued an oriental semblance that made you believe the designer's exotic hideaway was perched somewhere in the Far East as his models sauntered across a wood block runway in their cork two-tone platforms with matching technology pochettes swinging from their waists. The latter appeared to be the only bid to maintain touch with the outside world
Chanel: In these parts the tempo picks up for cocktail hour and Lagerfeld offered a plethora of ethereal tiered sheaths glittering with rhinestones and even eco-friendly wooden beads that would entice any modern bride to the altar. And that was even before Chanel's actual betrothed exited the villa in a geometric lace column that was accompanied by a matching hooded jacket, complete with a robe-like train. Let's call it haute leisure for a world where everyone is in possession of their very own sanctuary respite, complete with a lily pond off the kitchen
Schiaparelli: Bertrand Guyon's second Schiaparelli offering was motivated by the recent Paris attacks with the designer deciding to base his collection around the idea of a good meal with friends as an act of resistance as well as joy. This uniting notion of a familiar feast was a tasty fit for a house that's synonymous with perhaps the world's most famous lobster (cooked up by Dali), which in turn brought forth a smorgasbord of new food motifs to the Schiaparelli table
Schiaparelli: The visual banquet continued with pieces of porcelain sewn into dress bibs and various croissant, prawn, sugar cube and turnip pins adorning ethereal chiffon gowns. Natural fabrics like raffia and wheat – the latter a Schiaparelli icon itself – were also mined for both construction and embellishment, while bold prints were fashioned from bone china table settings or aerial views of farmland offering another nod to nature. Not to say that there wasn't an underlying Parisienne cheekiness to the offering, with a glace cherry nipple ring hanging from a woven raffia buster and a cracked egg standing in for a cape coat
Dior: The house of Dior may have lost its creative director in October's shock Raf Simons departure, but in these parts the show must go on, and Dior certainly know how to put on a spectacle. Even before entering this season's Bureau Betak-designed mirrored monument, guests (not taking Selfies) were offered a moment of reflection to contemplate the striking beauty of Paris' Musée Rodin caught within its fractured panes. Photography: Adrien Dirand
Dior: Once inside, the show notes spoke of 'couture's new realism' captured in the visual softening of dress volumes, more fluid incarnations of the Bar jacket and the modern patchworking of tactile embroideries. Led by Dior studio directors Serge Ruffieux and Lucie Meier, the pair dialled down the big dresses of Dior's Galliano era and relaxed the slick tailoring of Simons' three-year tenure, making 'femininity in motion' their m/o for spring.
Dior: Décolleté was a focal point with gowns slipping off the shoulders and tailoring de-collared to reveal the clavicles. Body chains were a bit of a trend this week in Paris – also seen at Valentino, Jean Paul Gaultier and Ulyana Sergeenko – and at Dior they carried good luck charms (perhaps for this time of transition?) that winked to the house's founder who was notoriously superstitious.
Giambattista Valli: The Roman designer who has called Paris home for the past 18 years was also inspired by the beauty of the city that surrounds him and more specifically its four finest gardens: Bagatelle, Palais-Royal, Luxembourg and the Tuileries, which were captured in spring's botanical-themed embroideries that finished swinging Sixties-style frocks
Giambattista Valli: Silhouette speaking, however, the Emma-esque empire lines of his puff sleeved cocktail confections and princess gowns were derived from 'Les Soeurs de Napoléon' - the 2013 exhibition at the Musée Marmottan Monet
Valentino: Creative directors Maria Grazia Chiuri and Pierpaolo Piccioli began their spring alchemy with a study of the body via diaphanous plissé layers fused with the work of 19th century Catalan painter Mariano Fortuny (who had a romantic fascination with military figures embarking on Oriental colonial expansion), and his designer son by the same name, who is best known for his pleating effects. The lustrous, light infused brush stokes of Fortuny senior's canvases were directly captured in the design duo's embroidered kimono dress of patchwork Fortuny motifs titled 'Letter to the World', while Fortuny junior's plissé techniques were employed to angelic effort throughout the poetic offering
Valentino: The opulent collection had a precious Byzantine regality to it (and often 1,800 man hours of construction), as antiquated velvet tunic dresses were hand brush with gold border motifs to operatic effect, while Medallion body chains made by Alessandro Gaggio and Harumi Klossowska finished all weight of gowns from whisper light tulle to richly worked velvets. Primal snake headpieces framed each girl's face, as their bare feet were shackled by more gleaming metal chains for the walk along a golden catwalk strewn with silk leaves, petals and blooms
Valentino: The allure of ancient civilizations was also evident in an ivory crepe plissé dress, for which the sleeves and side seams were finished with bronze studs, and in brocade tabard sheaths, which tied with simple bows at the sides. The show concluded with a finale of dream-like virginal gowns, their lightness alluding to the Fortuny dresses American dancer, and this season's Valentino muse, Isadora Duncan, wore when she performed
Viktor & Rolf: For Viktor Horsting and Rolf Snoeren this season began with a white piqué mesh polo shirt. Utilising its classic Airtex fabric, the pair then moulded a series of surreal sculptures, inspired by Cubist art, increasing in their degree of complexity as the show progressed. As for the total white-out? The pair explained the idea was to emulate plaster
Viktor & Rolf: 'They're very 3D, very sculptural, but still wearable,' Snoeren explained before the show. 'The fabric is the same all through-out the collection, but the way it has been handled is very different: sometimes there is a structure inside that's like a crinoline or a corset, sometimes there is a volume built inside that's covered in the technical fabric, other times the fabric itself is stiffened'
Viktor & Rolf: As the show built, fragmented faces took over the archetypical shirt's familiar features, while the last looks had a tribal African mask semblance to their statuesque portrait columns, which became a performance piece in themselves on the runway
Armani Privé: Mr Armani wrapped us up in a purple haze for his Privé show that rolled in with a collection dominated by fading mauve hues and undulating ruffles. The wave-like flounces finished the side seams of silken cocktail pants, just as sunray pleated jackets kept spring's momentum of movement circling the body
Armani Privé: For evening, a particularly chic pleated skirt and trapeze-shaped strapless top kept the ball rolling, while gowns followed the curves of sea shells; their reflective surfaces tiled like mother of pearl. Jewelled, transparent socks completed the collection's fantasy, dream-like quality
Roger Vivier: Thanks to the runaway success of Bruno Frisoni's demi couture Rendez-Vous collection, the French fashion brand expended into daywear for spring with the introduction of the Sneaky Viv' – a frills and spills sneaker that comes in a purist ruffled form, as well as studded with rivets, jewelled with crystals or festooned with fancy feathers
Dice Kayek: Turkish designer Ece Ege fused a fairytale narrative with a tailored precision that saw her explore exaggerated volumes such as inflated sleeve blouses, romantic cape coats and ruffled jacket peplums, which were articulated with a precise structure so as to appear effortless and almost sculptural on the surface, while concealing a web of technique trickery below.
Dice Kayek: The collection's dominating silhouette made a pronounced trip south for spring, far from Ege's somewhat signature abbreviated mini-crini dresses. That said, the departure was well received by her swinging three-quarter length skirts and ground-grazing woollen coats. The show's fairytale finishes were brought to life via her Alice in Wonderful bow blouses, The Steadfast Tin Soldier's military frocking (reimaged in crystal beading), and Little Red Riding Hood capes and capelets, before The Black Swan's plumage sprouted from a strapless peplum tunic to striking effect.
Elie Saab: The Lebanese designer took us on a passage to India for spring, during a time when colonial dressing was shifting from the strict codes of the Victorian era to that of the softer Edwardian Belle Époque. The decadent collection was directly inspired by the photo journal of Anglo-Irish aristocrat Lilah Wingfield on tour during the height of the Raj in her featherweight French lace dresses, and featured plenty of palatial, local architectural references and nature motifs in Saab's regal beading and embroideries
Elie Saab: The Orient's influence was everywhere from Saab's draped sari pants with billowing side panels to his cape or scallop-sleeved pageant dresses, some finished with trailing sashes. Tiers of French lace and elaborate bugle beading created movement, while the fact that much of the jewelled embellishments floated on a nude skin base, brought home a confident sensuality from this intoxicating foreign land
Atelier Versace: 'This is a collection for all women who walk their own path,' declared workout junkie Donatella Versace of her spring collection fittingly titled 'Athletic Couture'. Versace was off and racing with an arsenal of haute sportif finishes from silicon gel harness and boning on dresses and jumpsuits, to colourful hand-crocheted bomber jackets and jumpers, knitted with flocked chains and teamed with go-faster stirrup pants
Atelier Versace: The collection's 'racer-sharp' tailoring was spliced with cut-outs and laced with Swarovski crystal rope, while Spiderman webbing was hand embroidered rather than printed onto silk gowns. The result paved the way for plenty of curves ahead and certainly brought the leisurewear explosion into the couture equation with a running jump
Ulyana Sergeenko: Another designer inspired by the merging of two eras was Russian designer Ulyana Sergeenko who tapped the last decade of the Soviet Union as inspiration for her Eighties riot of couture weight ruffles, leg of mutton sleeves, jumpsuits and night porter caps, along with the corseted decadence of the end of the Russian Empire in 19th century Moscow and Saint Petersburg. Tiered, bra-cupped lace party dresses vied for attention with puffball skirts and stirrup pants tucked into wide-ankled, Christian Louboutin boots in metallic hues
Jean Paul Gaultier: Also beating down the door of the 1980s was Jean Paul Gaultier's comical pastiche of the hedonistic characters that inhabited infamously fashionable Paris nightclub Le Palace: an establishment where even the staff came clad in gold tunics by Thierry Mugler. Presented in the style of dinner theatre, models sporting obnoxiously large hoop earrings with similarly enthusiastically teased perms or spiky Bowie mullets, chewed gum, sipped champagne or simply lit up as they made their way down the catwalk air kissing other club creatures mid runway.
Jean Paul Gaultier: Monsieur Gaultier refuses not to have fun with his ebullient shows and so we were all along for the ride (second hand smoke included). Robe-like jackets were drawn into the waist and cinched with Moroccan curtain tassels as blouson pants abounded in jazzy silks. Fabrics, generally speaking, came shot with glitter, lamé or sequins as all the archetype Eighties-era favourites got a nostalgic redux with the tongue-on-cheek realism that only Gautier can deliver. And, of course, the show's soundtrack ran the same gauntlet from Talking Head's Psycho Killer to Prince's Controversy.