Square eyes: CoopDPS designs geometric eyewear for Max Mara
Memphis' founding members Nathalie Du Pasquier and George Sowden collaborate on a bold and bright Max Mara sunglasses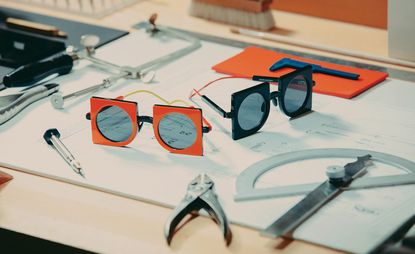 (Image credit: Max Mara)
The most fruitful creative alliances are, ostensibly, those which straddle several different disciplines at once. Evidence for which: Max Mara's new collaboration with CoopDPS – the title shared by painter Nathalie Du Pasquier and designer George Sowden – bridges art, fashion and industrial design, to create a limited-edition pair of bright, geometric sunglasses. What better formula for enthusiasm, energy and innovation?

That CoopDPS' legacy is so deeply rooted in Milan, where the artist and the designer first met at a party in 1979 and have lived together ever since, makes it a natural fit for the Italian house. They began developing ideas and drawings together immediately, and two years later, in September 1981, the very first Memphis exhibition took place during Salone del Mobile. With it, the duo – partners in life, as well as in work – became founding members of a movement which was to redefine postmodern design and architecture.

Du Pasquier and Sowden continued to work together through Memphis for seven years before deciding to refocus on their painting and industrial design practices respectively. But in 2014, they relaunched their collaboration under the new title, CoopDPS. 'Interestingly and importantly, work done in collaboration takes on a quality which is different to projects developed individually,' says Sowden.
RELATED STORY
Circles and squares collide in the resulting style for Max Mara, named Neoprism and inspired by the two shapes which form the Prism logo. The geometric style is available in two bold colourways – orange, and black – and nods to the creative duo's legacy, while also drawing on the combination of function and elegance at the core of the brand's identity. 'The prism being a combination of a circle and a square is quite a "modernist" idea,' Du Pasquier explains. 'It takes us back to the time women started participating in the working life, it takes us back to the origin of Max Mara.'

The house's eyewear collections have long been fertile ground for artist collaborations; in recent seasons, it has turned to graphic artist Shantell Martin and muralist Maya Hayuk, among others, to reimagine its Prism style. 'Both art and fashion are representing the time in which they are made,' Du Pasquier concludes. In its collaboration with CoopDPS, Max Mara's new styles reflect a contemporary society which happily looks back, in order to look forwards.
INFORMATION