Catwalk tour: the top women's fashion week venues from S/S 2015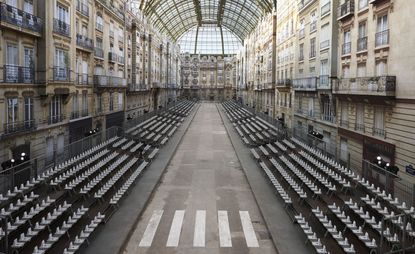 (Image credit: press)
Chanel: The Grand Palais' ever-changing Chanel interior revealed itself as an emblematic Parisian avenue for Karl Lagerfeld's spring parade. The indoor street scene came complete with seven-storey buildings, paved sidewalks, puddles and even pot holes, offering up the perfect marching ground for Chanel's latest tweed revolution
Prada: Rem Koolhaas' AMO created an other-worldy landscape inside Prada's preferred Via Fogazzaro show location. Airy purple sand dunes took centre stage, while Miuccia Prada's models walked around the abandoned desert scene on a spot lit, brown carpeted runway
Dries Van Noten: The Belgian designer's midsummer night's setting saw bohemian nymphs walking a moss-hued, shag pile rug that was crafted by Buenos Aires-based artist Alexandra Kehayoglou. Stretching out for more than 100 metres down the centre of the Grand Palais, the magic carpet provided a sprightly mise-en-scène for the show's finale as Van Noten's models lay down on the handmade green
Louis Vuitton: Nicolas Ghesquière's second Louis Vuitton collection was shown on home turf at the house's recently completed Louis Vuitton Foundation designed by Frank Gehry. The new cultural meeting point was given a futuristic makeover inside as spotlights structured the catwalk and holograms of faces were projected from all different angles
Thomas Tait: In the industrial surrounds of a near condemned office block on London's Strand, Thomas Tait collaborated with master of perspective art, Frenchman Georges Rousse, on his spring show space. The installation saw Rousse bring the rough and raw setting to life with his piece 'Déchiré' emblazoned across the walls and columns in red paint, the whole word being only readable from a certain viewpoint
Dior: Creative director Raf Simons relocated Dior's spring show to Louis Vuitton's former Musée du Louvre home
Dior: Simons enlisted Bureau Betak to take the venue's traditional façade and respectfully twist it into something entirely new - namely this mirrored reflection of the courtly Cour Carrée
Dior: Inside, the salon's interiors were kept boldy monochromatic with chairs lined up in sweeping swirls and spotlights pointed on the couture-weight collection
Peter Pilotto: The design duo continued their colour-coded show theme within London's Queen Elizabeth II Conference Centre for spring. Like Dior they called in production designers Bureau Betak, who used tinted Perspex screens in pop hues to manipulate the venue's natural sunlight. The effect enhanced the designer's similarly saturated collection that referenced the geometric planes of Russian abstract artist Kazimir Malevich's work as well as Henri Matisse's cut-outs
Marc by Marc Jacobs: A triangular, neon installation lit up Katie Hillier and Luella Bartley's Marc by Marc Jacobs New York presentation, illuminating the setting's darkened interior
Tod's: Gone were the contemporary interior furnishings as guests were welcomed into an 'Italian Private Green' for this season
Tod's: Sculptured hedgerows protected by white-gated screens and tropical palms set the scene for Alessandra Facchinetti's spring outing...
Tod's: With sandy pebbles underfoot and pillars shaped from buxus hedging, even the benches in this mise-en-scène were designed to resemble wrought iron garden furniture
Mary Katrantzou: Drawing inspiration from Pangaea and Panthalassa - the super continent that broke up around a 100 million years ago to create the globe as we know it today - Mary Katrantzou's show space was dominated by a lava-filled, arrow-shaped catwalk. Set in an abandoned fire brigade warehouse, models marched over the black chips as a veritable eruption of colour and texture flowed
Pringle of Scotland: This season, the British brand headed to the plush environs of Claridge's for its catwalk show. The private ball room's windows retained their traditional silk drapes, while neat bench rows provided non-intrusive seating
Erdem: Inspired by the work of Victorian biologist and explorer Marianne North, we joined Erdem Moralioglu in a tranquil tropical greenhouse within London's Old Selfridges Hotel for spring. Weaving around purple-tinged plant life, Moralioglu's models fought back against the set's mature foliage, walking on a runway of grey-planked flooring
Philipp Plein: Following on from Philipp Plein's S/S 2015 menswear pool party, the designer decided to travel further underwater for his womenswear presentation. With the help of Villa Eugenie, 3D projections plunged us into a deep-sea abyss, illuminated with a dazzling ecosystem of coral reef and tropical fish holograms
Jil Sander: Natural light flowed through a wall peppered with French doors at the brand's Via Beltrami showroom for Rodolfo Paglialunga's debut collection for Jil Sander. The effect was practical, clean and bright
Dsquared2: The Caten brothers returned to the scene of their menswear show for spring, but this time, transformed the Milan location into a fully-furnished, modern apartment. Decked out with white Barcelona chairs, the Stefano Grossi-designed space played host to the boy's 'business woman' who marched about the residence dressed in their colour-blocked workwear
Salvatore Ferragamo: The Italian house chose Piazza Affari (nicknamed 'Business Square') for its spring showing. Guests sat on cushioned, wooden benches that matched the showspace's hard wood floor, while the surrounding walls remained a blank canvas on which to spotlight Massimiliano Giornetti's latest Ferragamo offering
Hunter Original: Creative director Alasdhair Willis sent this season's Hunter Original collection down a reflective catwalk, which covered a former swimming pool in the middle of London's Seymour Leisure Centre. The 1930s venue was then updated with a new digital 'overground pool' that hosted a backdrop of psychedelic, underwater projections conceived by visual artist Mat Maitland. Photography: Dan Medhurst
Marni: A celebratory flower market was installed at Marni's Rotonda della Besana show location this season to mark the brand's 20th birthday. The interior, however, was kept simple, to allow Marni's signature prints to take centre stage
Victoria Beckham: Mrs Beckham's S/S 2015 show took place at a New York architectural landmark - the Cunard Building. Lighting aficionado Thierry Dreyfus dimly lit the dramatic setting highlighting the embellished, high ceilings
Chloé: Within Paris' Grand Palais, curvilinear seating benches were wound throughout the vast venue to define Chloé's spring runway, almost allowing guests to become apart of the brand's folkloric fashion showcase
Burberry Prorsum: Returning to its Kensington Gore location, an acoustic set from James Bay headlined Christopher Bailey's latest Burberry Prorsum outing, while his models walked under the kaleidoscopic tent's illustrated ceiling
3.1 Phillip Lim: A sensual twist was built into the American designer's spring show space. Phillip Lim invited us to peer through transparent white frames, straight into poet and novelist Leonard Cohen's interpretation of a bedroom
Paul Smith: Located back within the fashion genesis that is Central Saint Martins' London HQ, all of Sir Paul Smith's guests watched his show from boxy plywood plinths surrounded by bare brick walls and exposed steel beams
Lacoste: Set designers Bureau Betak channelled the brand's maritime heritage for spring by producing an installation that evoked the sails of a yacht. Accentuated by a lighting scheme by designer Philippe Cerceau, the runway's backdrop celebrated the brand's revamped return to seafaring wears
Boss: Jason Wu presented his second collection for Boss high up on the 54th floor of the World Trade Center - an empowering spot for the clean cut collection
Boss: Among the vertigo-inducing views, film footage of natural woodlands was projected onto columns, providing a little respite from the urban setting
Diesel Black Gold: Eyesight productions created a wall of flashing chequerboard lights for the backdrop of Diesel Black Gold's star-studded spring collection, as sidelined spotlights illuminated the tiled runway
Stella McCartney: The lavish Palais Garnier opera house set the scene for Stella McCartney's latest Paris presentation. Heavy, crystal chandeliers and plush painted ceilings together with veined marble walls and stone pillars provided a theatrical contrast to McCartney's organic, cut-out collection
Alexander McQueen: British artist Marc Quinn composed huge luminous white flower structures for the stark Japanese floral fantasy that was Sarah Burton's spring collection for Alexander McQueen. These shone bright against the Le Quartier des Célestins de la Garde Républicaine's glossy black floors and sooty ceilings
Richard Nicoll: In the historical setting of Victoria House, exposed concrete pillars and decaying, white-washed bricks provided a raw backdrop to Richard Nicoll's sporty spring collection
Miu Miu: Back in the Palais d'Iena, Miuccia Prada enlisted AMO to create wooden arches installed throughout the grand Parisian building to unite the original architecture with her new catwalk parameters...
Miu Miu: This transformation gave the building a 'house of worship' feel, as we sat within the shadowed wings to watch the ceremony commence
Loewe: The Spanish fashion house took new creative director JW Anderson's debut outdoors for its S/S outing. Shown in front of the UNESCO's Paris headquarters, Anderson's first sandy-hued patchwork leather look beautifully mirrored the building's raw, sandstone surroundings
Maison Martin Margiela: There was nothing dark or brooding about this season's Margiela presentation held at the elegant Hôtel Salomon de Rothschild. Natural light flooded through the open French doors into the heritage building's 19th century salon, complete with a grand chandeliers, hung under a classically painted ceiling
Acne Studios: The Palais de Tokyo was chosen for Acne Studio's 1970s-inspired spring salute. The venue's low grated ceilings and black scaffolding created an edgy atmosphere for the Swedish fashion house's vibrant collection
Givenchy: Riccardo Tisci invited us back to high school assembly for his smouldering spring presentation. Paris' Lycée Carnot school was re-configured for the designer's decidedly more grown-up audience with alternative forms of green and purple seating and draped curtains used to section-off parts of the vast hall. The sports hall's court lines were left untouched however, for Tisci's vixens to stride over
Kenzo: Set designer Etienne Russo of Villa Eugenie scored again with his installation inside a Paris skate park for Carol Lim and Humberto Leon's latest Kenzo collection. The show snaked between virtual avatar's faces speaking from oversized digital screens and industrial, concrete mounds