Burberry's London flagship store hosts three-storey body-exploring art installation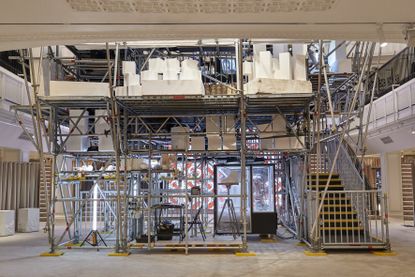 (Image credit: courtesy of Burberry)
On Monday evening during S/S 2019's London Fashion Week, newly-appointed chief creative officer Riccardo Tisci raises the curtain on his vision for Burberry. It's a reveal that's been rife with speculation and intrigue. Since Tisci took the helm of the British heritage label in March, we've seen the announcement of a collaboration with Vivienne Westwood, a new Peter Saville-designed logo, and just this week, the 24-hour release of a Thomas Burberry monogram t-shirt.
With all this drama, it seems fitting then, that Burberry's Regent Street flagship in Central London – which opened in 2012 – was once a theatre. For days its windows have been shrouded in paper, tessellated with the brand's sans serif 'T' and 'B' logo, while inside the space has been completely transformed into an opulent performance-inspired interior, lined with sumptuous velvet curtains, glossy lacquered wood fixtures, mirrored and studded leather plinths and plush pile carpet.
The store's impressive atrium with its central double staircase has been reimagined into a gallery format, in its midst sits the main spectacle. An immersive three-storey scaffold rises up in the centre, offering a series of rooms and levels, categorised according to both heritage and contemporary Burberry classics – the car coat, the trench coat, the signature check, the foulard scarf and the updated belt bag. All are available to purchase exclusively from Burberry's Regent Street space until 3 October.
British artist Graham Hudson is the creative force behind the installation. Renowned for his exploration of temporality and societal structure, his work often involves sound, performance and video; he assembles makeshift sculptures using found and everyday objects like cardboard boxes, crates and umbrellas. This large-scale work, Sisyphus Reclined, takes its title from the Greek myth of King Sisyphus, who after deceiving Zeus, entered the Underworld, and was condemned to roll an enormous boulder up a hill, only for it to roll down when it nears the top, repeating the action for eternity.
'To use that grandeur makes the whole installation seem absurd,' says Hudson, of his lofty reference to classical mythology. 'The tale of Sisyphus is quite funny, it's like the concept of a repeat download, or repetitive strain injury.' Repetition is at the centre of this concept. Sisyphus Reclined resembles a Madame Tussauds-meets-mad-prosthetics workshop with three floors of imaging, casting, modelmaking and experimenting with the sinews, muscle and make up of the human form.

In the belly of the scaffold structure, an arm-like robot – used in the automobile industry to heavy lift on factory floors – studiously drills out 3D replicas of human forms, and intricately mirrors the labels of their clothing or the tattoos on their skin. On the middle floor, a functioning workshop surrounded by computers and technicians, transforms 2D images into 3D composites.
'We're blurring the line between the studio and the finished product. And turning the volume up on what I've been working on,' he adds. The second storey's eccentric studio space, sits surrounded by human body casts in plaster, jesmonite and pastel-hued silicone. It features casts that are mashes up of bodybuilders and classical forms, like Alexandros of Antioch's Venus de Milo. A surface lined with dinosaur talons, half-finished casts and oddly shaped human parts is a disconcerting evocation of the antiquities, which lined Freud's desk. 'The stuff of nightmares,' Hudson adds.
The top level hosts a 'Photogramatory' – an image studio composed of 80 digital SLR cameras and a constellation of lights, which capture a 360-degree image of a human encircled in its centre. 'The top floor is the ultimate selfie booth', says Hudson. The stairs leading up to the final level are lined with vast bottles of Protein shakes and empty photo frames. 'They are sold to men to build muscle and women to lose weight, so it's like a motif of how you create yourself. It's classicism, narcissism, the Instagram ideal.'

In a final immersive flourish, a host of turntables wrap customers in unusual human sounds, eerily sped up or slowed down, as they explore the installation. 'We're playing DJ sound tools, which are like shoutouts that you play over a song,' Hudson says. 'They veer between sounding like something from The Exorcist, Alvin and the Chipmunks, someone is in an underground jail or rising towards an ecclesiastical moment, the voices of all the figures that are going to be coming to the installation.'

Sisyphus Reclined is an eclectic contrast to the newly redesigned gallery levels encircling it. In a nod to the signature shade of Burberry's trench coat, the sleek and polished store interiors have been layered in 19 shades of beige. For 24 hours after Tisci's debut show for the brand at 5pm BST on Monday, a capsule collection of men's and women's pieces from the catwalk will be available to purchase exclusively from the levels surrounding the store's central atrium.
Hudson's exploration of the human form draws parallels with Tisci's transformation of the Burberry brand. Like the robotic arm in the belly of the installation, he too is devising new silhouettes and contours for the physical form. 'I wasn't really thinking of that,' Hudson smiles. 'But Sisyphus Reclined seems to have synced up quite nicely!'
INFORMATION
'Sisyphus Reclined' is on view until 26 October. For more information visit the Burberry website (opens in new tab), or the Graham Hudson website.
ADDRESS
121 Regent Street
Mayfair, London
W1B 4TB