Aware: Art Fashion Identity exhibition, London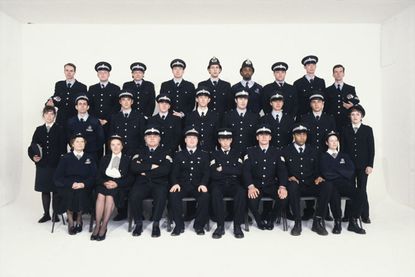 (Image credit: Maureen Paley Gallery)
All of us (bar a few naturists along the way) wear clothes to complete a necessary everyday routine. Whether much thought goes past the dressing up and dressing down is a whole other ball of yarn. Pulling together a group of artists and designers who have worked to reflect, expand, shred out and explore every inch of the nature of clothing, the GSK Contemporary - Aware: Art Fashion Identity exhibition at London's Royal Academy of Arts (opens in new tab) looks beyond fashion to focus on clothing in terms identity, nationality, displacement and conflict.
Alongside work collated from 30 contemporary practitioners including the likes of Marina Abramović (opens in new tab), Andreas Gursky (opens in new tab), Maison Martin Margiela (opens in new tab), Alexander McQueen (opens in new tab), Yoko Ono, Grayson Perry (opens in new tab), Cindy Sherman (opens in new tab) Hon RA and Yohji Yamamoto (opens in new tab), there will also be new work by Yinka Shonibare (opens in new tab) MBE and Hussein Chalayan (opens in new tab) commissioned for 'Aware' by the London College of Fashion (opens in new tab) and the Royal Academy of Arts.
The exhibition is divided into four sections - 'Storytelling' addresses the role of clothing in a historical and cultural sense, 'Building' confronts clothing being used as a form of protection, 'Belonging and Confronting' puts it in the context of nationality and politics, and 'Performance', which features film footage of Yoko Ono's performance of 'Cut Piece' at New York's Carnegie Recital Hall in 1965.
Broad reaching material, yes, but ultimately, the heart of the exhibition lies in the relationship between our physical covering and the countless ways it can work to either celebrate or suppress identity.
INFORMATION
Royal Academy of Arts
Burlington House
Piccadilly
London W1J 0BD
VIEW GOOGLE MAPS (opens in new tab)