Brother Vellies: sustainable shoes from the artisanal heart of Africa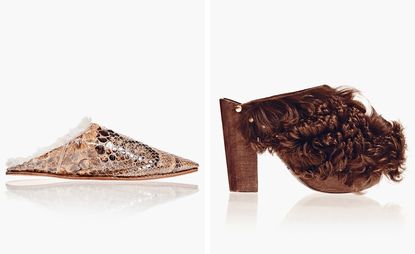 (Image credit: press)
'Love does strange things to people,' says Aurora James, the Toronto-native, New York-based founder of Brother Vellies, the footwear and accessory brand winning a loyal following for its sometimes-fluffy, always on-point, sustainably crafted creations. It was love for humanity and the planet that drove her to set up the line, which is now a regular sell out at MatchesFashion.com (opens in new tab) and Opening Ceremony, and love that inspires her on a daily basis.

This is a woman who wears her heart on her sleeve so that others can wear the benefits on their feet. She describes herself as 'an excavator of my own heart on a fairly regular basis' and it's important to her to create a 'world where people can afford to take care of themselves and their family.'

James launched Brother Vellies in 2013 with a collection for S/S 2014 after being inspired by her travels in Africa, particularly Namibia, Kenya, Nigeria and Morocco. Since then the label has become a buzz brand: last year it was one of the CFDA Fashion Fund winners.

The name of the brand comes from the colloquial name for 'Veldskoen', a traditional desert boot favoured by outdoorsy African types. 'I brought in the word "Brother" because I felt like there was a connection between certain groups, religions and tribes there that could be understood and appreciated through different cultural apparel,' she explains. 'They wear Babouche, for example, in many parts of Africa. In South Africa, when they would see the Babouche, they'd say, "those are from our brothers in the north".'

Her own 'love affair' with shoes began in her mother's closet. 'She had a great collection of Inuit mukluks, and a lot of other traditional apparel - vintage kimonos, indigo pieces from Africa. I would daydream about the women who wore these things a million miles away from Canada, where I lived. I got lost in this world of fashion and culture.'

But James' route to designer was not a linear path. In 1999, at 15, she started an internship at Next Models in Toronto then, in 2006, studied fashion and journalism in an ill-fated university career. 'I got kicked out of the Ryerson University journalism programme in either second or third year. I actually don't remember,' she recalls. Simultaneously, she took a job with Jeanne Beker at Fashion Television, which was a strong influence on her imagination. Later, she washed up in LA working as a creative consultant for brands including Elite and Thomas Wylde.

Her first trip to Africa was in 2011, to Morocco, and it created in her a desire to develop and sustain jobs on the continent. 'We don't need any more fashion in the world, unless that fashion can be used as a vehicle to crest positive change on this planet. I liked the idea of empowering communities through my favourite form of art,' she says. 'The continent of Africa is perhaps in the direst need of opportunity right now. I want to give opportunity to people who feel the world has forgotten them.'

At her A/W 2016 presentation in New York earlier this year, Lenny Kravitz's It Ain't Over 'Til It's Over played over a scene set to resemble a nature sanctuary (complete with live butterflies) inspired by a recent trip to the Omo Valley in Ethiopia. Standout styles included a new line of handbags trimmed with tufts of animal hair and an incredible yeti-like pair of tall boots covered in shaggy goat hair.
INFORMATION
For more information, visit the Brother Vellies website (opens in new tab)