Antonio Marras shares his rich artistic oeuvre for the first time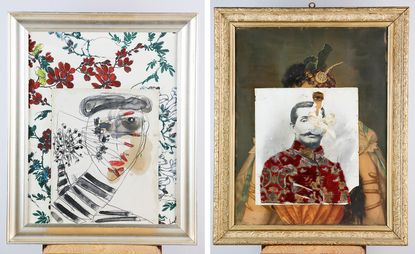 (Image credit: Photography: Daniela Zedda)
He may have made a name for himself as a fashion designer, but the Sardinia-born and -based Antonio Marras also possesses a less widely celebrated talent as a visual artist – although he hasn't exactly hidden this side gig, having previously illustrated prints for his collections. During each Salone del Mobile, his Milanese showroom is filled with the creative installations that he produces in collaboration with other artists, yet Marras' full body of work has never been exhibited – until now.

A new show curated by Francesca Alfano Miglietti at Milan's Triennale Museum brings Marras into the spotlight as a first-rate painter, illustrator, drawer, sculptor and installation artist. 'The director of the museum reached out to me a year ago saying they wanted to do an exhibit – but no fashion,' explained Marras during a preview of the exhibition. 'I said, that's great. Actually, even better.'

Marras is a full-time artist no matter where he goes. On airplanes – where scissors are not permitted – he resorts to tearing up pages to feed his obsession with collage work. Hundreds of his daily agendas have been covered over the days, months and years with rich visual scenes that he has doodled, drawn or painted. He has painted his whole life, filling his home with dark and moody sketches, watercolours, oils and artworks made from the unlikeliest mediums, such as coffee grounds.

The fruits of his creativity are everywhere you look in the Triennale's 1,200 sq m space, including ten full-scale installations, and 500 paintings and drawings, the latter on show for the very first time. These have all been mounted onto frames and new materials woven onto them. 'I spent the whole summer going around Italy looking for picture frames,' the artist remarked, 'as I wanted each to be matched perfectly with the art.'

The exhibition features work executed over the last 20 years, opening with a multi-sensory installation of black jackets and white shirts, hung like a jungle, and spritzed with a lavender fragrance that guests must walk through to enter the space. Other standouts include a series of 12 portraits of Popes that Marras painted together with his 12-year-old son ('I forced him to do it,' admitted the artist), a notebook work that he had previously displayed during the 2011 Venice Biennale, a mock classroom scene, as well as miniature clothes strung up like lanterns that were inspired by his native Sardinia's local fairy lore.

Though an enormous selection of his work is on view, it's actually just a mere sliver of his output. 'You should see how much is still at home,' the artist said with a laugh.
INFORMATION
'Antonio Marras: Nulla dies sine linea' is on view until 21 January 2017. For more information, visit the Triennale di Milano website
ADDRESS
Palazzo della Triennale
Viale Alemagna, 6
20121 Milan
Receive our daily digest of inspiration, escapism and design stories from around the world direct to your inbox