Artisanal bag brand Hands of Indigo teams up with Campbell-Rey for a London relaunch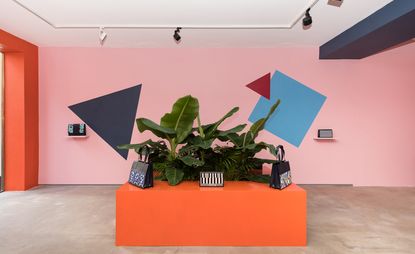 (Image credit: TBC)
'Our values are still very much engrained in the concept of slow design,' says Hands of Indigo designer Yanna Soares at the Soho Revue Gallery relaunch of her handcrafted handbag brand.

'This idea has been around since the Bauhaus and English Arts and Crafts movement, where decorative and fine arts would cross over through simple forms and folk references,' adds the Royal College of Art alumnus. 'So we are not really reinventing the wheel here. We are just presenting this to a new audience that has become more receptive to traditional craftsmanship and its possibilities.'

The colourblocked installation, open to the public from today, showcases the debut of two new bag styles, which accompany Soares' original clutch design. These include a beaded across-the-body bag, named after Italian-Brazilian architect Lina Bo Bardi, and a larger leather tote, which gets its title from Brazilian jazz singer Nara Leão. 'These are women who defined Brazilian style,' says the São Paulo native of the cultured monikers.

And just like the multifaceted careers of these visionaries, each bag taps into a global consciousness, passing through the hands of Soares' artisanal network that spans three continents: 'We are proud to say that our product is entirely handmade and that we work very closely with all the artisans involved in the making,' she says of the work flow that links Brazil, India and Portugal (she is also now based in Lisbon). 'We work with artisans that make the beaded embroidered panels with tiny Japanese beads, and with leatherworkers working without machines,' she adds.

The collection's graphic patterns are derived from Brazil's neo-concrete artistic movement, which sprung up in Rio in the late 1950s, and reference the work of artists like Lygia Pape, Lygia Clark and Hélio Oiticica. 'Indigenous woodcuts and weavings were reinterpreted into purist geometry,' she says of the new editions, influenced by the fluidity and bold colour usage of landscape architect Roberto Burle Marx.

The Soho space, conceived by creative consultancy Campbell-Rey, continues to explore these avant-garde geometries with the dynamic use of blocks of colour. 'We often reference mid-century architecture, art, design and materials in our work,' says Duncan Campbell. 'So this was a chance to explore a new set of influences from a South American angle.' The vibrant setting was completed overnight with the help of London theatre set painters and plenty of tins of Farrow & Ball; the saturated paint work providing a graphic contrast to the gallery's poured concrete floor – also a dominant material in modernist design.

'We looked at the rich colour framing of Grupo Frente and Luis Barragán to do the walls,' Campbell adds. 'And introduced greenery through wild plants juxtaposed in a very controlled environment.' These lush banana tree and fern planter boxes strikingly mirror the mosaics of Soares' sustainable designs, which range from £395 for the clutch style to £595 for the leather tote.
INFORMATION
For more information, visit the Hands of Indigo website

Photography: Damian Griffiths