Talking shop: A.P.C. celebrates fifteen years of exquisite store design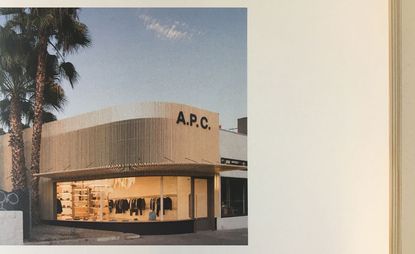 (Image credit: press)
'When a customer desires something in a fashion store, they don't just desire the clothing, but also the landscapes and fittings around what they want to purchase,' explains Jean Touitou, the founder and creative director of A.P.C. It's been 15 years since the Paris-based label began working with the architect Laurent Deroo on its store design, and this collaboration, culminating in over 50 spaces worldwide, is celebrated in a captivating new book, released this month.

Ordered chronologically, the book is a visual narrative of A.P.C.'s exquisite architectural design, from its rue de Fleurus flagship in Paris, to its outposts in Harajuku, Silverlake and Shoreditch. Conceived as unique spaces that subvert the monolithic tendency of luxury retail landscapes, Deroo also offers detailed explanation of his concepts for specific stores, conceived around their unique relationship to their location.
At A.P.C.'s 2011 rue Royale location in Paris, the luxurious heritage of the area was subverted by offsetting brass fixtures against walls sprayed with lo-fi paper pulp. In Melrose Place, built in 2013, varnished tiles sourced from a Spanish manufacturer were used to evoke the Hispanic history of Los Angeles. A 15m-long slit in the façade of the store exposed its interior to the Californian climate, inspired by the building-cuts of Gordon Matta-Clark.

'The contrasts of materials and devices make it possible to work with a new equilibrium, without making one consensual choice', Deroo explains. Balanced juxtapositions are central to the design of A.P.C.s stores, like the dialogue between the industrial and natural, from mirror-polished stainless steel screens offset against Idigbo timber panelling, to a solid wood spiral staircase positioned on Basaltina stone flooring.

Industrial storage design is also a signature. 'I was inspired by the capacity of artists to create with simple forms or minimal empty spaces,' Deroo says of the use of stackable aluminium crates that evoke the storage systems of Donald Judd.

'He sort of has to play in the same key,' Touitou says of Deroo, who has also renovated A.P.C.'s Paris headquarters and Touitou's own apartment. 'The more projects we have done, the more freedom Deroo has had regarding design. Little by little, he has defined an evolutional alphabet that fits into ours.'
INFORMATION
The book is available worldwide in A.P.C. stores. For more information, visit the website