Inside hair artist Tomihiro Kono's studio in Tokyo
Japanese hair artist and wigmaker Tomihiro Kono – who has worked with Junya Watanabe, Comme des Garçons, and Björk – invites us into his Tokyo studio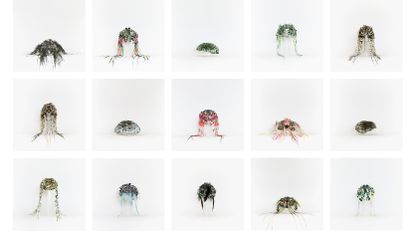 (Image credit: Prissilya Junewin)
Wallpaper* Newsletter
Receive our daily digest of inspiration, escapism and design stories from around the world direct to your inbox
Thank you for signing up to Wallpaper. You will receive a verification email shortly.
There was a problem. Please refresh the page and try again.
Exploring the tradition and innovation behind Japanese hair art, photographer Prissilya Junewin and writer Makoto Kikuchi travel to Tokyo to visit artist and wigmaker Tomihiro Kono in his studio. This, the third stop in their journey, follows visits to geiko wigmakers in Kyoto, and to a retro-themed Osaka salon.
Japanese hair art: inside Tomihiro Kono's studio, Tokyo
In the ever-changing city of Tokyo, artist Tomihiro Kono embodies the Buddhist concept of shogyō-mujou (諸行無常), meaning 'nothing stays the same', with his own lifestyle and artwork. His studio is an old house located in a quiet residential area of the city. The tidy rooms are furnished in a minimalist way. 'Once I finish a project, I have to clean up the whole room before I start the next one,' he says, having just finished a major project as Björk's hair stylist during her recent visit to Japan.
'It is a habit of mine to keep things in order,' he continues, showing us the private and rarely seen collection of wigs he made for Björk, carefully displayed on one of his desks. 'I hate to have something in the same place in my room all the time. I like to change the mood.'
In the 1990s, Kono trained at a hair salon in Harajuku, Tokyo, and then moved to London and New York, where he worked as a session stylist with numerous magazines and fashion brands, including Comme des Garçons and Junya Watanabe. For the past few years, he has been based in Tokyo, working remotely as a wigmaker on various projects around the world.
He tells us: 'For a long time, I travelled to many different cities, and I never really had the chance to settle down in one place. So even now, I don't see myself as a settled person here.'
His studio is lined with movable furniture, such as a chair on wheels and a folding table. 'I've always had to think about relocating, so this kind of furniture is a natural choice for me,' he explains. 'In my studio, I don't always work in the same spot, and I prefer to move around the room where I feel most comfortable working.'
Kono starts his day quite early. He wakes up at 6am and then spends an hour or so watering the plants in his room and feeding the killifish in his garden. 'Taking care of my plants is a kind of meditation for me,' he says. 'This is something I never miss, no matter how busy my day is.'
A self-proclaimed 'caffeine addict', he also never misses his morning coffee ritual. After answering emails and checking social media, he starts working around 8am 'Once I start working, I keep going until I lose focus. I rarely take short breaks. Unless I am working on a big project, I finish work in the afternoon and take a bath. After that, I don't work.' This work-and-life balance, which he describes as 'like a bakery', has only been established in recent years. 'There were times in the past when I worked without sleeping, but not anymore. On my days off, I don't work at all; I don't touch my wigs or even think about it. I feel more balanced this way, and it's also better for my work.'
On those days off, Kono spends most of the day in contact with nature. On the second floor of his studio, he has a 'one-and-a-half-tatami-mat'-sized greenhouse that he calls his 'sanctuary', strictly off limits to anyone but himself. 'I'm from the southern part of Japan and come from a family of farmers, so when I touch the soil, I feel the happiest,' he says. 'I like the smell of soil and things that are grounded, and I am very grateful for the constant inspiration I get from observing nature up close, which always produces unexpected colours and shapes.'
Although he is self-taught in Western wigmaking, he also has a deep insight into traditional Japanese hair art. He recalls, 'I studied traditional Japanese hair art 20 years ago as I wanted to learn more about my own culture before going abroad to the UK. I found the Tokakai, a course that taught people how to master one traditional Japanese hairstyle in ten days. I made copies of a textbook that was not allowed to be taken out of class, and I still have them today,' he continues.
The copybook he shows us is covered with countless scribbles. 'I was impressed by the craftsmanship that went into making something [like the styles in the book] out of hair,' he says. 'I learned that every single process has its own meaning.' Because of this experience, he is extremely cautious about incorporating elements of Japanese hair art into his work. 'I have too much respect for the tradition; it is a fully realised art in its own context,' he reflects.
The tools he shows us are diverse and well cared for, including a variety of combs of all sizes and shapes. Some are collector items. 'I'm fascinated by how differently they are designed and when they were made,' he says. 'There are some items that will never be made again, and those are the ones that I want to treasure forever.'
His activities are not limited to wigmaking; his motto is 'to constantly evolve with the times'. He recently published Fancy Creatures, an art book about his nature-inspired headpieces, with Konomad, a creative studio he founded with his partner, photographer Sayaka Maruyama. At Konomad, in addition to publishing, he also organises exhibitions in collaboration with younger artists and holds offline talk sessions that anyone can attend.
'As an artist, I want to remain anonymous, so I don't make public appearances, but that doesn't mean I close the door to fans of my work,' says Kono. 'I would rather have a lot of young people come to Konomad. I want it to be a gateway for them to approach this closed industry.'
Receive our daily digest of inspiration, escapism and design stories from around the world direct to your inbox
Mary Cleary is the Beauty & Grooming Editor of Wallpaper*. Having been with the brand since 2017, she became an editor in February 2020 with the launch of the brand's new beauty & grooming channel. Her work seeks to offer a new perspective on beauty, focusing on the pioneering personalities, product designs, and transformative trends within the industry.