Japanese hair artist Tomihiro Kono debuts new book of fanciful wigs
Hair artist Tomihiro Kono debuts his most surreal wigs yet in the new book, 'Fancy Creatures'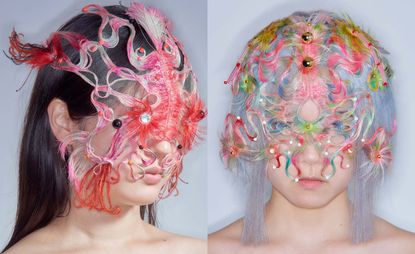 (Image credit: Tomihiro Kono)
Back in 2020, Japanese hair artist Tomihiro Kono brought a bit of colour to the bleak days of the Covid lockdowns with the launch of his book Personas 111.
The slim volume contained dozens of images of photographer Cameron Lee Phan wearing an array of Kono's cotton-candy-coloured wigs – baby pink bobs, lilac braids, Veronica Lake-platinum waves and seafoam green corkscrew curls – with each transmuting Lee Phan into a distinctly new character. The end result was a playful testimony to the mutability of our identities, showcasing how they can be radically transformed in the time it takes to put on a wig.
Fancy Creatures by Tomihiro Kono
In his latest book, Fancy Creatures, Kono once again explores the transformative power of hair, but this time with a range of wigs that bring his pastel-infused, surreal aesthetic to new extremes. It picks up where Personas 111 left off, documenting Kono's creations from 2020 to 2022, when he started constructing his 'creature waves' wigs, imaginary hybrid creations inspired by various microorganisms on Earth, ranging from deep-sea animals to furry moss and endangered moths.
The basis for each of these wigs is the 'finger wave', a popular hairstyle from the 1920s and 1930s that called for hair to be set into a soft 'S' shape. That style, synonymous with Old Hollywood glamour, is then mashed together with organic forms that nod to insect antennae, tropical flowers, tree-frog markings, and reptilian scales, as well as various other cultural references that have long inspired Kono, including Kabuki theatre, anime, and Tokusatsu, a type of Japanese live-action sci-fi with elaborately costumed characters.
As writer Christopher Schreck notes in the book's introduction; 'when viewed on their own, the "creature waves" resemble preserved specimens in a biologist's lab, splayed for display or dissection. Once set upon a model's head, however, they come alive in a kind of mutual merging, with both wig and model made stranger and newly animated through their interplay.'
tomihirokono.com (opens in new tab)
Mary Cleary is the Beauty & Grooming Editor of Wallpaper*. Having been with the brand since 2017, she became an editor in February 2020 with the launch of the brand's new beauty & grooming channel. Her work seeks to offer a new perspective on beauty, focusing on the pioneering personalities, product designs, and transformative trends within the industry.