The globe-trotting Cruise 2024 shows: what to expect
Everything you need to know about the upcoming Cruise 2024 shows, which see fashion brands jetting around the world, from Seoul to Los Angeles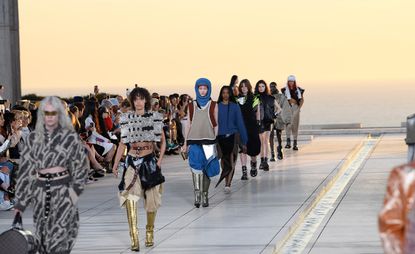 (Image credit: Courtesy of Louis Vuitton)
Befitting its origins – a seasonal offering from Parisian fashion houses for jet-setting clients who summered on the Med in the early 20th century – the Cruise 2024 season will see shows take place in a dramatic array of around-the-world locations, from Isola Bella on Italy's Lake Maggiore to Los Angeles, Rio de Janeiro, Seoul and Stockholm. With the promise of historical backdrops, dramatic sets, and days-long celebrations, they continue the Cruise season's reputation as holding the most extravagant presentations on the fashion calendar – now encompassing an eclectic group of international brands.
Here, in an ongoing list, everything we know about the globe-trotting Cruise 2024 season so far.
Cruise 2024: everything you need to know
Louis Vuitton – Isola Bella, Italy
The serene Borromean Islands on northern Italy's Lake Maggiore will provide the picturesque backdrop for Nicolas Ghesquière's latest cruise outing for Louis Vuitton on 24 May 2023. In particular, Isola Bella ('beautiful island'), a haven of Baroque art that began with Carlo III of the House of Borromeo transforming the rocky outpost into a palazzo and garden for his wife in the 17th century. In the centuries that followed, construction continued; by the mid-1700s, under Giberto V Borromeo, the ornamental palace and gardens played host to those at the top of Europe's social strata, including Napoleon and his wife Joséphine Bonaparte, and Caroline of Brunswick, Princess of Wales. The choice marks a departure of sorts for Ghesquière, whose previous Cruise collections have taken place at jewels of modernist architecture – from Oscar Niemeyer's Niterói Contemporary Art Museum in Rio de Janeiro to last season's show at the Salk Institute for Biological Studies in San Diego, designed by architect Louis Kahn.
'The spirit of travel and the discovery of extraordinary natural environments, architectural masterpieces and art are intrinsically connected with Louis Vuitton,' says the house. 'Isola Bella is in keeping with the maison's tradition, a treasure chest of Baroque art suspended over the water.'
Chanel – Los Angeles, United States
Last season, Virginie Viard chose the Monte-Carlo Beach Club – long a haven for the international jet set – to hold her Cruise 2023 show for Chanel, taking over the hotel's famed beachside promenade (guests watched on from cabanas on the shoreline). This season, Viard has chosen Los Angeles, presenting her latest Cruise collection in the city on 9 May 2023. Expect a typically high-wattage affair from the house, which will no doubt playfully reference the city's Hollywood history in the collection itself (the Monte Carlo show contained motifs relating to casinos, Formula One and Helmut Newton's famed photographs of swimsuit-clad women on the local beaches). As yet, a venue is yet to be specified, though it will likely be dramatic – in 2008, Viard's forebear Karl Lagerfeld hosted a Cruise show at Santa Monica airport. 'This show is an opportunity for the house to celebrate its connections with the City of Angels,' Chanel said in a statement.
Max Mara – Stockholm, Sweden
Max Mara will head to Stockholm, Sweden, for its Cruise 2024 show, following last season's resort presentation in Lisbon, Portugal (in a continuing celebration of the 'Max Mara pantheon of strong women', it celebrated Portuguese intellectual Natália Correia in the grounds of the Calouste Gulbenkian Collection, where creative director Ian Griffiths had first discovered a portrait of Correia by Nikias Skapinakis). The show itself will take place on 11 June 2023 at an as-yet-unnamed venue, though following the show at Calouste Gulbenkian Collection and a previous cruise show that took place at Berlin's Neues Museum, it looks likely that one of the city's artistic or historical institutions will play host to Griffiths' latest outing – a tribute, of sorts, to Max Mara founders the Maramotti family's renown as prolific collectors of contemporary art.
Gucci – Seoul, South Korea
Gucci will head to Seoul, South Korea, for its first Cruise show since the departure of Alessandro Michele in November 2022 (his final Cruise collection was shown in Puglia, Italy, at the 13th-century Castel del Monte in May 2022, projected with a constellation of stars for the occasion). Following the house's recent mens- and womenswear collections, shown in January and February respectively, the Cruise 2024 collection – taking place on 16 May 2023 – is expected to be designed by an in-house design team (Sabato de Sarno, Michele's successor, is not slated to show his debut collection until September 2023 at Milan Fashion Week S/S 2024). Though the show's location is yet to be announced, Gucci has said it will celebrate 25 years of the house in South Korea, having opened its first flagship in Seoul in 1998.
Carolina Herrera – Rio de Janeiro, Brazil
New to the international Cruise schedule, Carolina Herrera will show its first-ever collection outside of New York at a special show in Rio de Janeiro. There is no location for the show as yet, though the brand has said it will be part of a multi-day event which will also celebrate the launch of the brand's latest 'Good Girl' fragrance. 'I am thrilled to be staging our first-ever show outside of New York in Rio de Janeiro. It's an inspiring city for so many reasons,' said Wes Gordon, who took over the American brand in 2018. 'The lively colour palette, the unique blend of its universally loved music, the breathtaking modernist architecture of Oscar Niemeyer, and the exuberance of its traditions, which I have immense respect for.'
Jack Moss is the Fashion Features Editor at Wallpaper*. Having previously held roles at 10, 10 Men and AnOther magazines, he joined the team in 2022. His work has a particular focus on the moments where fashion and style intersect with other creative disciplines – among them art and design – as well as championing a new generation of international talent and profiling the industry's leading figures and brands.