Prada Beauty is finally here and we have an inside look
Rumours have swirled around Prada Beauty for months. Now that it has finally dropped, we talk to the brand's global creative make-up artist Lynsey Alexander about what sets this beauty brand apart from the rest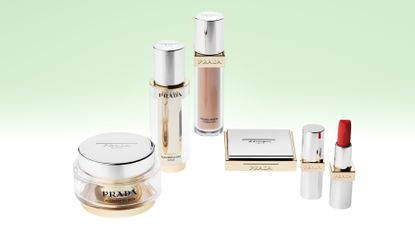 (Image credit: Prada)
The possibility of a Prada Beauty line has been whispered about for months, if not years, and now it is finally here. So what's it like? Well, true to form, the Italian fashion house has taken an idiosyncratic approach to beauty, with a makeup line designed by two so-called 'phygital' (physical and digital) brand makeup artists and a skincare line formulated with technology to help skin adapt to our radically changing environment.
'It's about an act of rebellion within make-up,' global creative make-up artist Lynsey Alexander tells me as we sit inside the brand's mint-coloured London showroom. Spread out before us are the entire contents of the line: foundations and skincare packaged in sleek gold and silver columns, lipsticks with triangle-tipped applicators ranging from vermillion red to muddy nude, eyeshadow quads with shocking shades like canary yellow and Barney purple.
On first glance, it is the colours that grab you the most and which turn out to be the most distinctly Prada element of the collection. 'There's a juxtaposition of ugly and beautiful, coming together to create something quite extraordinary,' Alexander explains. The eyeshadow palettes each contain three colours 'like your school uniform,' says Alexander, 'they are neutrals that you can wear every day and then there is one unexpected, disruptive colour for a shocking twist.' It is, in essence, Miuccia Prada's defining 'ugly/chic' ethos – to take classically beautiful elements and subvert them with something classically ugly – distilled into beauty.
Then there are the lipsticks (and one mint-coloured lip balm) all of which are matte. It is a bold, and perhaps unprecedented, choice for a beauty brand, but one which Alexander asserts is grounded in practicality ('makeup artists and customers want a lipstick that stays on'). There is a slight variation, however, in that shades are available in either a 'hyper-matte' or a more subtle 'soft matte' format. They are also made using only three pigments (most lipsticks have about twelve) in order to achieve maximum vibrancy.
IRL and URL make-up
Yet, it is Prada Beauty's digital influence that really sets it apart from other beauty brands on the market. Alexander has developed the make-up in collaboration with digital make-up artist Ines Alpha. According to the brand they are the first to create a beauty line that 'bridges the IRL and URL dimensions'. But how?
'Ines' job was to create a kind of Prada avatar in all different skin tones,' explains Alexander. 'Then we would road test colours on them. I would be working with pigments and she would be working with pixels, and through her pixelation she would create something that I hadn't seen before, that maybe didn't exist.'
'Then my job would be to try and translate that into something tangible that the labs could create. So we ended up with these soft matte lipsticks that have a white undertone which makes it looks like a white light is shining through them, and all the hyper mattes have a black undertone, so that it's a much deeper, stronger pigment. In that way, it sort of mimics the way a computer works with its cyan, magenta and yellow tones.'
Prada skincare
The skincare collection consists of a serum and cream that uses the brand's signature 'Adapto.gn Smart Technology' to help skin adapt to our environment, which is changing faster than our skin can otherwise keep up with. The 'Smart Technology' is made from a family of 15 rare plants that have existed for over 400 million years, withstanding extreme conditions across geological ages. It is then combined with active ingredients like proxylane, hyaluronic acid, vitamin C, ceramides and adaptogens to refresh and reinforce the skin barrier.
All in all, Prada Beauty is as untraditional as its fashion counterpart and a collection that will satisfy Prada fans for its cerebral, yet wearable, approach to beauty.
Prada Beauty launches at Harrods 1 August, 2023.
Receive our daily digest of inspiration, escapism and design stories from around the world direct to your inbox
Writer and Wallpaper* Contributing Editor
Mary Cleary is a writer based in London and New York. Previously beauty & grooming editor at Wallpaper*, she is now a contributing editor, alongside writing for various publications on all aspects of culture.