Kelly Lee Owens and Hæckels recreate the feeling of music through a fragrance
Scent 08, the new fragrance from Kelly Lee Owens and Hæckels, is 'therapy in a bottle'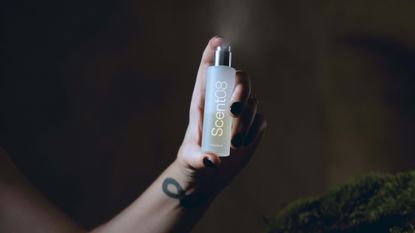 (Image credit: Haeckels)
Welsh electronic musician Kelly Lee Owens is best known for crafting hypnotic sonic dreamscapes interspersed with her distinctive falsetto voice. For her latest collaboration with Hæckels, Owens has crafted a fragrance as atmospheric as her music, specifically designed to trigger, through scent, the same immersive and transportive experience of the best electronic compositions.
Scent08 by Hæckels and Kelly Lee Owens
To create Scent08 Owens worked with Hæckels to translate eight distinct memories into scent. The first spritz brings with it the smell of fresh rain on tarmac (a scent familiar to Hæckels fans from the beloved Pluviophile scent), before moving on to a recreation of Cafe Poggi 1919 in Venice. The rich, malty scent mixes with the freshness of the petrichor for a complex and compelling contrast that is rounded out by vetiver before finishing off with a touch of sweet English roses, designed to evoke spring in the countryside.
Scent08 is Owens' second collaboration with Hæckels, following on from the Acton's Lock candle in 2020, and the first fragrance from Hæckels in nearly five years. The brand has already inspired a cult following with its intoxicating fragrances, which draw inspiration from English locations like the 19th-century amusement park Dreamland (a blend of charred wood and rose) or Blen Wood (birch, crab apple and fern). Scent08 is an exciting new addition to the collection that will appeal to longtime followers and newbies alike.
'This fragrance is something close to my heart,' says Owens. 'What initially started out at creating a scent to accompany an album, has gone way beyond that. The fragrance I created has eight notes that combine together to uplift, energise and then ultimately ground the wearer. This is therapy in a bottle.'
Mary Cleary is the Beauty & Grooming Editor of Wallpaper*. Having been with the brand since 2017, she became an editor in February 2020 with the launch of the brand's new beauty & grooming channel. Her work seeks to offer a new perspective on beauty, focusing on the pioneering personalities, product designs, and transformative trends within the industry.