How an Hermès silk scarf comes to life
Wallpaper* takes a trip to Lyon, where creativity and craft unite to make the iconic Hermès 'carré' – a square-shaped silk scarf adorned with prints by renowned artists and illustrators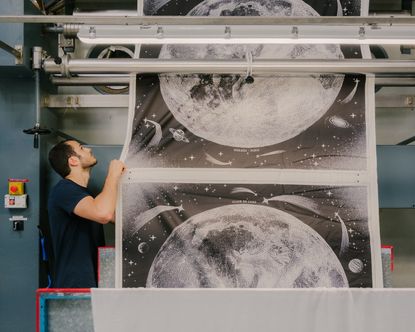 (Image credit: Photography by Maxime Verret, courtesy of Hermès)
The Hermès carré – a silk scarf named for its square shape and to distinguish it from the lesser 'foulards' of other houses – is one of the Parisian house's most prized exports, recognised around the world for its vivid compositions of colour and print, and the delicacy of its construction. The latter is the result of hours of labour by dedicated artisans in Lyon, France, across two sites where each scarf is printed and finished by hand. 'When you see all of the steps,' says Cécile Pesce, the current creative director of Hermès women's silk. 'It is a privilege.'
Indeed, across the two sites on the outskirts of the city – the Bourgoin-Jallieu site to the south-east and the recently extended Pierre-Bénite closer to the centre – the process of creating a carré harks back to the accessory's invention by Hermès family member Robert Dumas in 1937 and remains led by the artisan's hand in the face of modernisation. Case in point, the scarf's initial stage, the hand-inscription of the original design – patterns are commissioned from a series of notable artists and illustrators – into an image editing programme. Though the programme is digital, the team nonetheless painstakingly traces each brush or penstroke by hand using a drawing tablet and stylus in a process which takes on over 600 hours for each scarf's design (several have taken far longer).
Inside the Hermès silk workshops in Lyon, France

These designs are then separated into layers of colours for screen-printing, a process whereby ink is forced through stencil-like cut-outs in a mesh screen, layer on layer (all elements of a pattern in green, for example, are done at once, then blue, et cetera, until the print is completed). A complex act with plenty of opportunity for error, a scarf design can include up to 48 colours, and therefore screens. These various screens are created, or 'engraved', in house parlance, in the Bourgoin-Jallieu location, before being individually barcoded and transported to the Pierre-Bénite for printing (to complete the process, they return to the former where they are finished with hand-rolled edges, intricately stitched by hand).
Earlier this month (July 2023), Hermès inaugurated the newly expanded Pierre-Bénite site, which now includes a sleek three-building extension surrounded by verdant gardens created by Lyon-based architecture studio Unanime (it even includes its own vegetable patch, tended to by a dedicated gardener). There, state-of-the-art screenprinting machines have replaced the labour-intensive process of hand-dragging the ink over the screens; another production line is set to be added in the coming months. The site is also where the Willy Wonka-esque process of creating the now over 75,000 shades in the Hermès colour catalogue are mixed and perfected into their (secret) formulas.
Indeed, colour is perhaps the central facet of Pesce's role as creative director, which she began in 2020 having worked in the silk department since 2005 (she has also designed collections for Hermès' 'beach universe' since 2014, a role she continues). Pesce is responsible for choosing the colours that best fit the designs that the artists have submitted, as well as updating archival prints with new hues. In the workshop, she demonstrates how different a singular design can appear with the colours shifted and changed. For her, choices are intuitive: '[The colours] are mixed from memories. The idea is to reorganise everything; colours are like words to make a sentence,' she says. 'Or how it is to make music: it is natural for me.'
Pesce notes that it is often easier when the carré utilises numerous shades rather than just a handful. 'When you work with lots of colours, it's easier because they feel equal to one another,' she explains. 'But when you just have five colours, they have to be exceptional. You have to respect the different shades – from dark to middle to very bright and the lightest lights.'
Pesce likens her role to a 'conductor bringing it all together', working alongside the colourists and artisans in Lyon and the wider womenswear teams in Paris where she is based. Her desire is for innovation: 'You should think every day about tomorrow. Silk is a beautiful object that I want to move into the future,' says Pesce. The proudest moment of her tenure so far is participating in the 'Footsteps Around the World' project, whereby Hermès united with a producer in Kyoto, Japan, undertaking historic marbled silk printing, captured in a short film by Frédéric Laffont.
She notes that craft – and the artisans who work on the various silk pieces – remain the bedrock of her métier at Hermès. 'I really like to spend time in the workshop – I have a lot of respect for the artisans. They work at a really, really high level,' she says, noting that she travels down to Lyon when she can. 'I've always felt very free, and around people who are passionate about their work.' Of the house's signature silk product, the carré, she notes 'its excellence, its specificity... it is unique to Hermès.'
The day after, around 1,000 artisans and craftspeople will gather at the new factory site in Pierre-Bénite for its official opening in a celebration that includes musical performances, lawn games and a funfair. Bunting made from cut-up triangles of printed Hermès silk flutters overhead, and there is excitement in the air; the festivities will mark a rare halt in production, as everybody will take the day off to toast the occasion.
Hermès is not a fashion house, says Pesce, but something much more – a network of artisans across France and beyond, dedicated to working together to unite on the dizzying expressions of craft and creativity which are now synonymous with the bastion of French style. 'It really is a family affair,' she smiles.
Receive our daily digest of inspiration, escapism and design stories from around the world direct to your inbox
Jack Moss is the Fashion Features Editor at Wallpaper*. Having previously held roles at 10, 10 Men and AnOther magazines, he joined the team in 2022. His work has a particular focus on the moments where fashion and style intersect with other creative disciplines – among them art and design – as well as championing a new generation of international talent and profiling the industry's leading figures and brands.