Haute couture week S/S 2023: everything you need to know
Feats of craft and imagination have defined this season's couture offering, shown this week in Paris. Here, we round up the best of haute couture week S/S 2023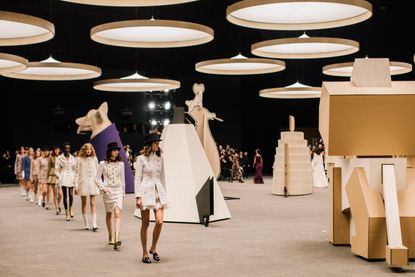 (Image credit: Courtesy of Chanel)
The historic art of couture takes centre stage in Paris this week, as Europe's storied houses – among them Chanel, Dior and Valentino – show their latest collections at haute couture week S/S 2023. Defined by feats of craft (a couture gown is made almost entirely by hand, for a singular client's body), flights of imagination and some of the season's most dramatic show sets, the week has come to represent the very pinnacle of Parisian style.
Here, Wallpaper* rounds up the best of haute couture week S/S 2023, from a Josephine Baker-inspired collection by Maria Grazia Chiuri at Dior – complete with set by artist Mickalene Thomas – to a Valentino offering from Pierpaolo Piccioli, celebrating the extravagance and glamour of history's famed nightspots.
The best of haute couture week S/S 2023
Jean Paul Gaultier
Colombia-born Haider Ackermann was the latest designer to be invited to create a couture collection by Jean Paul Gaultier (previous seasons have seen Chitose Abe of Sacai, Olivier Rousteing of Balmain, and Glenn Martens of Y/Project reinterpret the French designer's oeuvre). Ackermann looked towards the traditions of haute couture for the mesmerising collection, which comprised poetical silhouettes – cocooning opera coats, round-shouldered gowns, expansive bows and hoods – which Ackermann said was a return to the purity of haute couture ('We know Jean Paul and we know the loudness and the music and the styling… sometimes you get so distracted by it that you lose the essence and purity of his immaculate work,' he told British Vogue). Models walked the runway striking poses akin to those in historic haute couture salons, while Ackermann's rigorous – and razor-sharp – cut was demonstrated in the immaculate tailoring (much of which utilised elements of corsetry, a Gaultier staple), or plunging sliced-away gowns which recalled the visual impact of his own eponymous collections.
Valentino
Pierpaolo Piccioli's latest haute couture collection took place in the Bridge Club, a subterranean nightspot under Paris' Pont Alexandre. For the collection itself, the Italian designer said he drew inspiration from nightlife past and present – references included Studio 54, Leigh Bowery's Taboo, and the Blitz Club, frequented by the New Romantics – noting that 'a synergetic, spontaneous language is found between the lexicon of couture and the world of nightclubbing' in their embrace of extravagance and glamour. 'The notions of clothes as tools of transformation, crafting a true self… and, above all, a plurality of beauty, beauty as individuality, a heroic expression of inner truth made outer,' described the collection notes. As such, Piccioli's grasp of silhouette and colour was channelled into a series of outré pieces, at once drawing on the precision of the couture atelier and the sense of sartorial freedom and self-expression he has channelled during his tenure at the house so far.
Armani Privé
Diamond motifs ran throughout Giorgio Armani's latest Armani Privé collection – a nod, the house said, to artistic depictions of harlequin clowns. 'An imaginary dance,' described the accompanying notes of the exuberant collection, which saw pieces arrive in a multitude of colours and luminescent textures, from nipped bejewelled jackets to shimmering paillettes in shades of pink, emerald and turquoise (the designer said he was inspired by the idea of light being refracted through a prism). Other pieces drew inspiration from the Rococo interiors of Venetian palazzos – 'the splendour of [their] light' – while notes of black, whether providing an outline to a jacket or as a geometric motif on a gown, provided a graphic counterpoint.
Chanel
Gabrielle Chanel's apartment at 31 Rue Cambon, Paris – the spiritual home of her eponymous house – provided the inspiration for Virginie Viard's latest couture outing. In particular, a series of objects featuring animals (lions, does, stags, birds, camels) which were interpreted by artist Xavier Veilhan in the show's set and by Viard in delicate bestiary-inspired embroidery across the collection. As such, large wooden animals populated the show space, from which models emerged. 'I like it when the marvellous bursts forth and the course of events is interrupted,' Viard elucidated. The collection itself looked towards the uniforms of parades and circuses, from top hats and bow ties to capes, tailed jackets and lace-up boots, rendered here with the intricate technique of the house's couture atelier. A sense of lightness came in delicate layers of transparency – from organza ruffles to floral Chantilly lace – while a simple abbreviated bridal gown lent a sense of romance with a sheer veil decorated with a flock of swallows.
Dior
Maria Grazia Chiuri looked to the figure of Josephine Baker – the American performer who made her name in Paris in the 1920s – as inspiration for a sensual S/S 2023 haute couture collection at Dior. Backdropped by a set created in collaboration with artist Mickalene Thomas that comprised collaged portraiture of pioneering Black and mixed-race women (including Baker), the collection captured what Dior called her status as 'a glamorous icon, [who] embodies the modernity of the 1920s, the transgression of stereotypes and prejudices, the mixing of cultures and shared experiences that notably animated the vibrant world of cabaret'. As such, there was particular focus on the line of the body (Chiuri said that the 'couture garment is a body-garment… a body-home'), beginning with garments that evoked the dressing robes Baker would wear over her costume before she went on stage, while bodysuits recalled vintage satin underwear. Other pieces were glamorous in their minimalism – a black gown gently cinched at the waist; coat jackets that fell away into sharp pleats – while couture's association with excess came in delicately beaded flapper-inspired dresses, glimmering metallic brocades, and a series of closing dresses in molten crumpled satin and velvet. 'The clothes glide over the body and caress it,' said the house.
Schiaparelli
Daniel Roseberry looked towards Dante's Inferno for a S/S 2023 collection that stole headlines for the realistic animal heads – lion, wolf and snow leopard among them – which emerged from gowns and overcoats (the announcement that they were entirely man-made did little to quell the social-media furore). The best of the collection lay elsewhere, though: sculpted hourglass bodices and tailoring (inspired, Roseberry said, by the shape of the house's 'Shocking!' scent) showed a mastery of shape, while extraordinary feats of embellishment came in swathes of hand-stitched sequins and enamel, rhinestone and moulded-brass adornments. 'Elsa [Schiaparelli] always promised surprise in her work, and over the years, people have learned to come to Schiaparelli in a spirit of wonder; you don't know what you're going to encounter here,' said Roseberry. 'This season, we concentrated less on deliberate artifice, such as our signature hyper-stylised anatomy bijoux, and more on blurring the lines between the real and the unreal.'
Jack Moss is the Fashion Features Editor at Wallpaper*. Having previously held roles at 10, 10 Men and AnOther magazines, he joined the team in 2022. His work has a particular focus on the moments where fashion and style intersect with other creative disciplines – among them art and design – as well as championing a new generation of international talent and profiling the industry's leading figures and brands.