La Bouche Rouge creates sustainable perfumes by upcycling ingredients
La Bouche Rouge, the French make-up brand known for blending luxury with an eco-conscious mentality, launches its first range of perfumes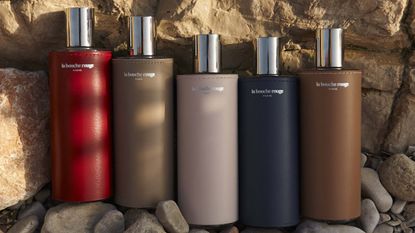 (Image credit: La Bouche Rouge)
Among the cacophony of beauty brands preaching sustainable practices, there are a few pioneers who are voicing and, more importantly, acting with genuine commitment and a deeply informed approach.
La Bouche Rouge founder Nicolas Gerlier has been one of those voices since 2016, when the brand launched a range of 100 per cent plastic-free lipsticks, made with recycled metal and upcycled leather, and formulations that are microplastic- and cruelty-free. A full make-up range followed in 2020, proving the brand's ability to do what few before it could by creating quality products that combined ethical manufacturing practices with luxury aesthetics.
Now, La Bouche Rouge, is extending that same ethos to fragrance with a line of five perfumes that Gerlier promises are about to 'launch a revolution in fragrance'.
La Bouche Rouge fragrances
So how do you create a sustainable fragrance? For Gerlier, it meant finding an entirely new way of formulating. To begin, he went to the centre of perfumery, Grasse in France, and collaborated with a manufacturer there to develop (over the course of two years) a range of upcycled fragrance ingredients.
For instance, the cedarwood essence is made from the sawdust left behind at a woodcutting factory in Virginia. The rose damask essence, which is difficult to source because of high demand, was recreated using technology that can extract the scent without petrochemicals. While other scents are made from flowers collected after religious or celebratory ceremonies and recycled into various essences. As Gerlier puts it, 'with some creativity, some pragmatic decisions and some advanced technology, we have managed to create a large portfolio of natural, upcycled ingredients'.
With the new ingredients in hand, Gerlier tasked a range of talented perfumers each to create a perfume inspired by one of five colours.

The final results are Rouge, a sexy, spicy blend of patchouli, ginger and cedarwood; Nude, a diaphanous fragrance that smells like a delicate enhancement of your natural skin with rose, fig and cedarwood; Rose, a woody and green version of the flower with geranium bourbon, rose, cranberry and musk; Bleu, a crisp marine fragrance made from geranium bourbon, incense, lavender and pink pepper; and Ambre, a warm honey-like scent of rose, saffron, raspberry and vanilla. They each smell exceptional and, I can attest, like nothing I have ever smelled before, as per Gerlier's promise.
All the fragrances come in the La Bouche Rouge's signature upcycled packaging with 100 per cent upcycled and recyclable aluminium refill tubes. They will be launched on 15 March 2023.
laboucherougeparis.com (opens in new tab)
Mary Cleary is the Beauty & Grooming Editor of Wallpaper*. Having been with the brand since 2017, she became an editor in February 2020 with the launch of the brand's new beauty & grooming channel. Her work seeks to offer a new perspective on beauty, focusing on the pioneering personalities, product designs, and transformative trends within the industry.