Breathtaking runway sets from the A/W 2023 shows
Blown-up flowers, Roman bronzes, confetti cubes – we round up the scene-stealing runway sets of fashion month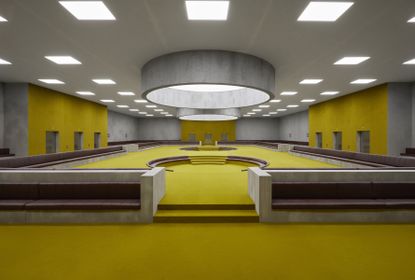 (Image credit: Courtesy of Gucci)
A metres-high camellia flower, priceless Roman sculptures, cubes of colourful confetti – strange and sublime, this season's runway sets provided as much visual stimulation as the collections themselves. Spanning blockbuster sets evocative of vast Hollywood sound stages to more intimate gatherings populated with vintage furnishings, we round up the very best show spaces from A/W 2023 fashion month, which ended in Paris earlier this week (see Paris Fashion Week A/W 2023 highlights).
A/W 2023's best runway sets
Prada
Like at Prada's menswear show in January, showgoers were greeted with a sparse bunker-like space installed in Fondazione Prada's Deposito; as the show went on, the ceiling rose to reveal vast bunches of lilies hanging from the ceiling (for the men's show, instead of flowers, towering art deco-inspired chandeliers were revealed). 'The proportions and atmosphere of the room change almost imperceptibly from a dark low-ceiling room to a warm, monumental salon-like space, and back again,' said designers OMA, reflecting the mood of a collection that moved between 'the familiar and the exceptional' in its garments.
Chanel
Virginie Viard looked towards the perennial Chanel emblem of the camellia flower for a romantic A/W 2023 collection in which the white bloom adorned the collection's garments and accessories in a multitude of ways. The flower was also the centrepiece of the curved show space, blown up to enormous size, while a fresh camellia was left on each attendee's seat. Also in the show space – which was erected in the Grand Palais Éphémère – were towering screens, playing a Who Are You, Polly Maggoo?-inspired film by Inez and Vinoodh (2023 Wallpaper* Design Awards judges) starring actress Nana Komatsu, one of the house's ambassadors.
Gucci
Gucci said that this season's show space – a surreal imagining of an office lobby complete with sets of lifts and circular carpeted pits in which showgoers sat – was a metaphor for the collection itself, which had been created by the house's in-house team (Alessandro Michele's successor Sabato de Sarno will not present his first collection until September 2023). Drawing on the memories of the various designers, some of which had been at the house for decades, the A/W 2023 collection melded elements from the 1990s and 2000s into what the collection notes called 'an exuberant conversation between past and future'. 'Elevators transport the collection through the building to the runway,' said the house, 'illustrating the creative process behind any new proposition, from the archive where concepts ignite... to the runway where new expressions manifest.'
Bottega Veneta
Matthieu Blazy said that he wanted to conjure a 'parade' for his A/W 2023 collection, where 'techniques, motifs, characters and creatures from the past travel through space and time to speak to the present and the future' (it marked the final part of his 'Italia' trilogy, which has largely drawn on the multiplicities of Italian style and craft). The era-spanning mood was captured in the sculptures which decorated the intimate carpeted show space – a pair of Roman bronze runners from 1BC and Italian futurist Umberto Boccioni's Unique Forms of Continuity in Space (1913). Both depict figures in movement, created nearly two millennia apart – an apt metaphor of the expansiveness of Blazy's project in the 81-look collection itself.
Loewe
Jonathan Anderson drafted Italian artist Lara Favaretto to create colourful confetti cubes to popular the otherwise sparse optic-white runway (the space itself was another cube, erected in the central courtyard of the historic Château De Vincennes on Paris' eastern edge). It spoke to a new mood of reduction and visual clarity in the British designer's work at both Loewe and his eponymous brand JW Anderson. 'It's the idea of looking at realities – that in the room it looks like one thing, then we have an audience online that sees it a different way,' he said post-show. 'It's my greatest obsession at the moment... how do you reinforce a language but not get trapped by a language that you built?'
Ferragamo
British designer Maximilian Davis' sophomore collection for Ferragamo was presented on a much larger scale than his first, seeing Milan's MiCo convention centre transformed with monolithic curving walls around which attendees sat. The blockbuster set evoked those in Hollywood science-fiction movies; indeed, Davis' cinematic collection looked to transform Golden Age Hollywood hyper-femininity and glamour (in particular, that which epitomises Marilyn Monroe and Sophia Loren, both of which had shoes made for them by house founder Salvatore Ferragamo) into a new definition of beauty he deemed 'alien futurism'.
Acne Studios
'[There was] a crochet shoe, huge turnips, swamp people, sparkles,' Shona Heath told Wallpaper* of the eclectic inspirations for the set designer's creation for Acne Studios, which saw strange plant-like sculptures decorate a space inspired by the magic and lore of the forest. 'I asked Shona to create a place that captured the topography of a dark forest in a way that felt creative,' said Jonny Johansson, Acne Studios' creative director, whose own collection found its roots in Swedish nature. 'I love how forests are always changing, growing and transforming.'
Sportmax
Presenting in a former industrial space in Milan, Sportmax populated the show space with a broad collection of vintage seating – from Victorian armchairs to modernist sofas – on which attendees sat to watch the collection (the brand called it their 'grunge garage'). They reflected the collection's eclectic mood, which spanned reference points in a 'continuous game of contrasts between bourgeois elegance, primitive chic and glam androgyny,' as the accompanying notes described.
Miu Miu
Miuccia Prada said that her A/W 2023 collection was about 'ways of looking' – 'I am always interested in how people look at things, their consideration… why people are attracted to certain ideas, why others repulse them,' she elucidated in a statement distributed after the show. It was a mood reflected in the set, a raised platform which ran through the Palais d'Iéna space, designed to 'to aid observation'. Also featured were a series of screens playing a work conceived for the show by South Korean artist Geumhyung Jeong, which explored the relationship between her own body and clothing, 'inviting and arresting our attention, demanding to be watched'.
Louis Vuitton
The gilded Beaux-Arts salons of Paris' Musée d'Orsay provided the location for Nicolas Ghesquière's latest Louis Vuitton collection, which the designer said was an interrogation of French style. The grand space was interrupted by a spiked black runway installed by French artist Philippe Parreno alongside Hollywood set designer James Chinlund (last season, they created a 'monster flower' for the designer's previous show) which doubled as a vast speaker creating a series of immersive 'sound illusions' by Academy Award-winning composer Nicolas Becker. Befitting the inspiration, the various noises – from clacking heels to car horns – were supposed to reflect the feeling of being on a Parisian street, a feeling continued in the runway's surface which recalled paving stones or cobbles.
Dior
Maria Grazia Chiuri continued her collaboration with women artists with a dramatic, carnivalesque show set by Portuguese artist Joana Vasconcelos titled Valkyrie Miss Dior. Its enormous undulating form was crafted from textile techniques – including sewing, knitting and crochet – in fabrics which recalled those from Grazia Chiuri's previous collections. The designer said that she wanted to create a dialogue with Vasconcelos about Catherine Dior, house founder Christian Dior's sister who was a member of the French Resistant and later a florist. As such, the work became an 'homage to Catherine, a veritable model of female emancipation.'
Jack Moss is the Fashion Features Editor at Wallpaper*. Having previously held roles at 10, 10 Men and AnOther magazines, he joined the team in 2022. His work has a particular focus on the moments where fashion and style intersect with other creative disciplines – among them art and design – as well as championing a new generation of international talent and profiling the industry's leading figures and brands.