Paris exhibition explores link between Azzedine Alaïa and Madame Grès, two fashion greats
Fondation Azzedine Alaïa hosts 'Alaïa / Grès. Beyond Fashion', a conversation between the two couturiers' sculptural works. The foundation's Olivier Saillard and Carla Sozzani tell Wallpaper* more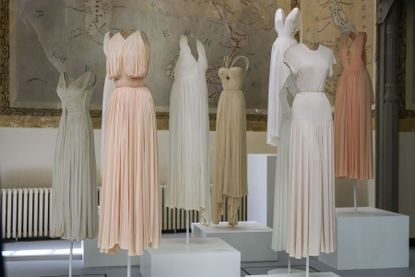 (Image credit: Photography by Stephane Aït Ouarab)
Azzedine Alaïa was one of the most gifted designers of his generation, the last of the greats to completely master each stage of designing and producing a garment; a virtuoso in cutting a garment to a woman's body. The Franco-Tunisian arrived in Paris in 1956 aged 21, designing for a private clientele that included Greta Garbo, Louise de Vilmorin, Arletty, and Cécile de Rothschild.
He would show his first ready-to-wear collection in 1980, rising to prominence in the 1990s as the so-called 'king of cling'. He went on to dress Tina Turner and Grace Jones and propelled models Naomi Campbell, Tatjana Patitz, Stephanie Seymour, Farida Khelfa, and Cindy Crawford to superstardom.
What is lesser known is that Alaïa was also a prolific collector of haute couture, a fact that only came to light after his death in November 2017.
Inside 'Alaïa / Grès. Beyond Fashion' in Paris
'Alaïa's archive of 19th and 20th-century couture is the third largest in France, after the Palais Galliera and the Musée des Arts Décoratifs,' says prolific fashion curator and director of Fondation Azzedine Alaïa, Olivier Saillard.
'It was an obsession for him,' said Carla Sozzani, Alaïa's close friend of 40 years (the pair were interviewed together by Wallpaper* in 2012), founder and president of Fondation Azzedine Alaïa and of the 10 Corso Como concept store in Milan. 'He was always buying, buying, buying. It began when he bought Balenciaga's entire archive in 1968.'
He bequeathed a legacy of more than 15,000 haute-couture pieces to the foundation. This includes 700 creations of French couturier Madame Grés, who worked from the 1930s to her retirement in the late 1980s.
'Alaïa /Grès. Beyond Fashion' juxtaposes two couture master talents in the skylit gallery of Alaïa's Rue de la Verrerie maison, which also houses the Azzedine Alaïa workroom, archives, bookshop, café and just-opened restaurant. Sixty of Madame Grés' gowns are exhibited here for the first time.
The similarities between the two are astounding. Both were self-taught, honing their craft in real time. Both disregarded the fashion calendar, presenting their collections only when they were ready. Both favoured a monochrome palette of black, white and bone, occasionally integrating crimson, bordeaux, midnight, ultramarine, celadon and nude. They shared a love of simplicity, of pureness of line.
'I love clothes that are beautiful and timeless, without useless details or decorations, or in colours that date them too fast,' said Alaïa. 'The simplest clothes are the hardest to create.'
Both completely mastered the selection and potential of fabrics, velvet, silk and jersey in particular.
'You can tell the soul and character of a fabric by touching it,' said Madame Grès. 'When I drape a mannequin in silk, for example, the fabric responds in my hands and I try to understand and judge its reactions. That's how I give the dress the outline and shape that the fabric itself would like to have.'
Most tellingly, both started out studying sculpture. 'I wanted to be a sculptor. Working with fabric or stone is exactly the same thing for me,' said Madame Grès, whose real name was Germaine Émilie Krebs, choosing the 'Grès' pseudonym for its 'sandstone' meaning.
Both used pleating, draping and sensual fabrics to accentuate the female body, the hourglass proportions (or 'bombshell', as Alaïa's incumbent designer, Pieter Mulier, names it) between the breasts, waist and hips.
'When I was in Tunis, I went to the École des Beaux Arts and I decided to study sculpture because of my fascination with the curves of the body,' said Alaïa. 'Then I discovered fashion.'
Alaïa emulated Madame Grès' Grecian pleating and draping, adding a more contemporary edge with leather straps, chainmail, and his signature metal eyelets. He was not alone; Issey Miyake and Yohji Yamamoto also drew inspiration from the couturier's couturier, Yamamoto naming his S/S 2005 ready-to-wear collection after her.
The legends identifying side-by-side pieces seem interchangeable, which lends the exhibition to a fascinating game of 'guess the designer.'
'Madame Grès is perfection in eveningwear,' says Carla Sozzani. 'Alaïa is perfection in everything.'
'Alaïa / Grès. Beyond Fashion' runs until 11 February 2024 at Fondation Azzedine Alaïa, 18 Rue de la Verrerie, Paris.
Receive our daily digest of inspiration, escapism and design stories from around the world direct to your inbox