Future visions: Zaha Hadid inspires innovative design exhibition at Maison Mais Non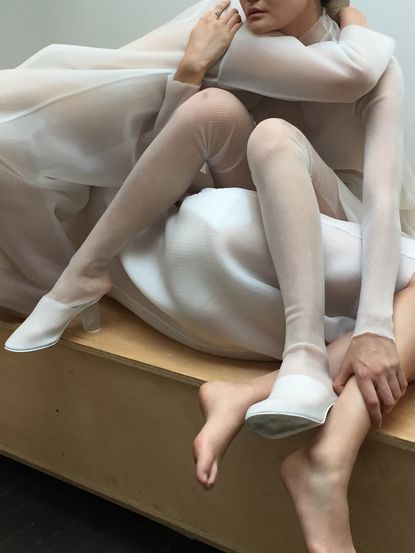 (Image credit: An Nguyen & Peter Do)
How can architecture, design and fashion create a better future? Before she sadly passed away in March this year, Zaha Hadid began a conversation with Patrik Schumacher (Zaha Hadid Design Principal and founder of The Design Research Lab at the Architectural Association) and the team at Maison Mais Non gallery, about how innovation and collaboration might be put to use across the creative disciplines to shape tomorrow's world – values at the core of Zaha Hadid Design's approach and position as a workshop engaging professionals in diverse fields. 'In terms of form, all of our projects – architecture, fashion and furniture – interest me equally; and all of the designs originate from similar principles,' the late Hadid said. 'All the projects are connected somehow.'

The discussion serves as the inspiration behind an exhibition inaugurating the Maison Mais Non space in the heart of Soho, opening in London this week. Exploring the ideas of visionary designers and how they evolve, 'The Extraordinary Process' is itself the outcome of a meeting of multiple minds.

From its inception, the exhibition has developed further through discussions between Hans-Ulrich Obrist and curator Lou Stoppard, who have brought together designers whose practices are defined by an impulse for experimentation, innovation and cutting-edge science and technology: among them, Iris van Herpen, Peter Do, Stephen Jones, Nasir Mazhar, Phoebe English, XO and Minimaforms.

The Design Research Lab has encouraged designers to think about a world they would like to create – rather than one constrained by what exists in the present – and has produced models based on their visions that will be presented together with materials documenting the process such as sketches, garments, swatches and videos. Incorporating existing technologies with idealism, each designer has additionally created a striking special installation, seen as the synthesis of these dynamic exchanges.

The results are stimulating, proposing different aspects of a world beyond now, from the clothing we might wear to the spaces we might inhabit. Schumacher will reveal digital concept sketches for a suit alongside the final product; Peter Do, with New York design duo Jeffrey Hawk and Yasin Ozdemir of Brute, has created beautiful footwear and apparel for an urban future; meanwhile Minimaforms (Theodore and Stephen Spyropoulos) present their interactive Emotive City (2015-) 'a model of living that we call an adaptive ecology.' This is certainly a future you'll want to be part of.
INFORMATION
'The Extraordinary Process' is on view through to 16 November. For more information, visit the Maison Mais Non website
ADDRESS
Maison Mais Non, 14 Greek Street, London, W1D 4DP
VIEW GOOGLE MAPS (opens in new tab)
Charlotte Jansen is a journalist and the author of two books on photography, Girl on Girl (2017) and Photography Now (2021). She is commissioning editor at Elephant magazine and has written on contemporary art and culture for The Guardian, the Financial Times, ELLE, the British Journal of Photography, Frieze and Artsy. Jansen is also presenter of Dior Talks podcast series, The Female Gaze.