We speak to Jean Nouvel about his new furniture collection for Emu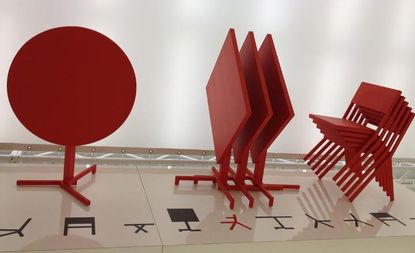 (Image credit: TBC)
Wallpaper* Newsletter
Receive our daily digest of inspiration, escapism and design stories from around the world direct to your inbox
Thank you for signing up to Wallpaper. You will receive a verification email shortly.
There was a problem. Please refresh the page and try again.
As well as transforming cityscapes the world over, French architect Jean Nouvel has a growing portfolio of furniture to his name. His latest collection is Mia, a characterful range of outdoor tables and chairs in steel and aluminium for Italian brand Emu - all jaunty angles and simple lines. Originally designed for the Mia restaurant at the new RBC Design Centre in Montpellier (another Nouvel creation, opening this autumn), they have now been put into production.

We caught up with the designer at the Salone to find out more...
How did the collection for Emu come about?
I am an occasional designer. I do design when my clients ask, for example they might request a bed when I design a hotel, and so on. Frank Argentin, the owner of RBC, asked me to design this new building in Montpellier, which has a large restaurant. He suggested Emu and I was happy with this because I haven't very often had the opportunity to create an inexpensive product for a large market.
Describe your approach to furniture design?
The nature of the way I design is to research the 'elementarity' of something. I am an architect and I design like an architect. I am not a designer who is like a stylist, which is very often the case now. I research the essence of the product. A lot of people say [my work] is minimal. It is the opposite of minimal. I don't research to simplify the shape. I research the character and the function of a chair or a table.
What inspired the collection and what were the challenges of creating it?
A chair for me is probably the most difficult problem. I am not the first to say that. Mies van der Rohe said it is more difficult to design a chair than a skyscraper. It is such an obvious thing that has been designed for millenniums. We have so many chairs. So I tried to design with my religion; my religion of elementarity. I listened to the technique of the Emu company, as I needed to use their tools. I researched their spirit and character. I wanted the collection to have a simple identity and I found this very simple articulation - the [angular] joint to the pieces. I think she is a little bit optimistic, smiling perhaps.

We fought on every detail to keep this very simple thing. When you look at the chair, you think perhaps it is not complete, just the beginning of a chair...
Does it reflect the architecture of the building, in any way?
No, it's not in relationship with the character of the building but I think RBC is very simple and elementary of course because it's my style. I researched to create something complementary with my building, with a little bit of my spirit.
Is limited edition something you're doing more of?
I sometimes do products for only limited edition, like the Gagosian - the tool box and the table. I began to design furniture a while ago and now I have a showroom in Paris with a selection of 30 or 40 products to establish a good reading of my work. I have no image as a designer because I usually just create one product at a time. I am not Philippe Starck, I am not turning out ten products every year, so I want to establish and understandable attitude and style in this showroom because you can understand the meaning of this 'elementarity' when you see all the products together.
Receive our daily digest of inspiration, escapism and design stories from around the world direct to your inbox