Jean Nouvel: Furniture, Gagosian Gallery, Paris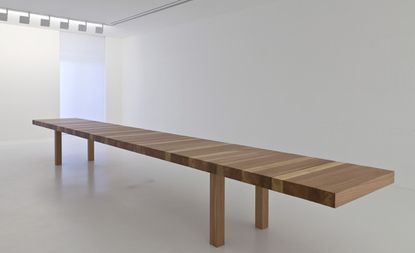 (Image credit: Thierry Depage)
When he isn't busy creating award-winning buildings and spaces, Jean Nouvel grazes on the non-architectural pastures of design - creating purpose-built objects that derive from his achitectural commissions or visions relating to his building concepts. The French architect's latest exhibition at the Gagosian Gallery in Paris may only consist of two pieces, but what they lack in number, they make up in sheer boldness of form.

Presented in collaboration with Galerie Patrick Seguin, both pieces of the limited edition furniture collection have that sensory Nouvel aesthetic, that so reiterates his lyrical yet utilitarian design style.
Commanding a minimum length of 4m, 'La Table au Km' is (while limited in edition) a narrow made-to-measure table that is in theory, limitless in length. Its principle for infiniteness is a simple one - the proportions of the table ensures that the span is supported within the thickness of the material itself, which is a lamination of oak and hornbeam.
Piece number two, or 'Boîte à outils, is a storage system based on the concept of a toolbox. Found in almost every household, its form has also been reintepretated and streamlined by the designer - now a bearing a geometric interpretation of the former, but retaining a functionality in design.
ADDRESS
Gagosian Gallery

4, rue de Ponthieu

75008

Paris