Jiani Zeng and Honghao Deng: Wallpaper* Next Generation 2021
Our Next Generation 2021 showcase shines a light on 21 outstanding graduates from around the globe, Wallpaper's pick of the best new talent in seven creative fields. Here, we profile MIT and Harvard University graduates Jiani Zeng and Honghao Deng.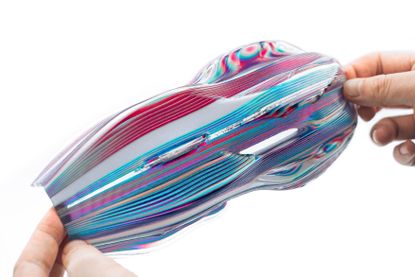 (Image credit: press)
Designers Jiani Zeng and Honghao Deng of MIT and Harvard University have been exploring the potential for 3D-printing to create products with entirely unique optical and physical properties, and experiences that have previously seemed impossible.

Their lenticular 3D-printing framework, 'Illusory Material', enables users to create dynamic colour and texture in real-life objects. Rather than simply replicating materials that already exist, they have looked beyond traditional methods of design, bringing the freedom of creating material from the digital world into reality.
They have printed a series of products that demonstrate the possibilities of 'Illusory Material'. 'The designs consist of two basic layers: the top layer comprises lenticular lenses, while colours or patterns are embedded into the base layer. The technique can be used to create a variety of 3D lenticular designs, such as shifting patterns, interactive written content, and even touch-sensitive visual effects,' they say.
This new 3D-printing computational method relies on several different functioning layers of material, with information embedded into each three-dimensional pixel (voxel) to create interactive objects. 'Illusory Material' opens up new opportunities with multi-material 3D-printing: it has the capability to create unique expressions and sensory products that cannot be realised using other manufacturing processes or workflows. The innovative framework is poised to bring 3D digital material into the real world, offering bold reimaginings of everyday products.
INFORMATION
Illusorymaterial.com (opens in new tab)