Charlotte Klinge: Wallpaper* Next Generation 2021
Our Next Generation 2021 showcase shines a light on 21 outstanding graduates from around the globe, Wallpaper's pick of the best new talent in seven creative fields. Here, we profile Massey University graduate Charlotte Klinge.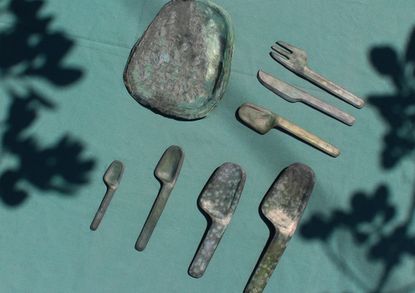 (Image credit: TBC)
Finding sustainable options for takeaways or outdoor dining can prove challenging in a plastic-filled world, which is why Massey University College of Creative Arts (New Zealand) graduate Charlotte Klinge created Boochi, a collection of compostable cutlery.

Helping consumers lower their carbon footprint, Klinge's designs consider both sustainability and the experience of the user. The collection, comprising serving spoons, a dining and teaspoon as well as a knife and fork, are made from a by-product of kombucha production, known as Symbiotic Culture of Bacteria and Yeast (SCOBY); after use, it can be discarded in domestic compost bins where it decomposes within 90 days, turning into fertile humus.
SCOBY contains little absorbed energy and has a neutral carbon footprint as well as being free of hazardous substances, making it safe for household composting systems. Boochi resembles textured polystyrene, offering a familiar yet new tactile eating experience. It is the combination of SCOBY's material qualities and an antibacterial beeswax glaze that achieves this effect. In addition, the cutlery comes with asymmetrical handles, equally suited for both right- and left-handed users.
Sustainable products can have a positive impact in each phase of their life cycle: with this notion in mind, Klinge has considered how we can extend the life of organic waste materials. 'This project seeks to provide a secondary value stream for the waste industry, and raises awareness of ethical waste and resource management,' she says. Unlike conventional, single-use petroleum-based cutlery, Boochi is made from a renewable resource. Klinge's collection puts an environmentally sound option on the table that has aesthetic appeal; it urges us to rethink the future of takeaway cutlery, encouraging self-reflection on our personal consumption habits.