Ammos: Wallpaper* Next Generation 2021
Our Next Generation showcase shines a light on 21 outstanding graduates from around the globe, Wallpaper's pick of the best new talent in seven creative fields. Here, we profile six talented design students from Delft University, The Netherlands.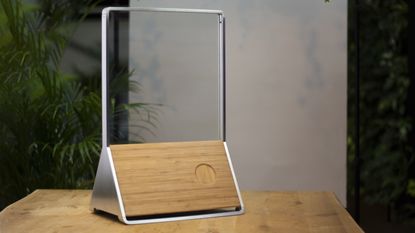 (Image credit: TBC)
Imagine a home audio system that is fully recyclable and produces perfect sound with a sheet of glass. This is what six industrial design students from Delft University of Technology, working in collaboration with a Delft-based technology start-up, DeNoize, have achieved with their 'Ammos' speaker. Hoping to stimulate recycling and help combat electronic waste, the planet-friendly design also focuses on ease of use and repair.
Growing demand for modern devices and frequent upgrades are causing a huge build up of electronic waste. Like all good design, 'Ammos' aims to solve a problem, and its creators' approach is two-fold: to create a high-quality speaker that is environmentally sound, and can easily be repaired by users to ensure product longevity. 'Ammos' is made of glass, bamboo plywood, and a sturdy aluminium frame. It uses ABS, a recycled and recyclable plastic, for assembly components; natural rubber for seals; and recyclable aluminium PCBs for the electronics. The speaker is controlled via a haptic touch interface, incorporated seamlessly on the front bamboo panel.
'Ammos' has been developed using a smart-glass system, a product of Ammos-techlabs, powered by Delft-based startup DeNoize. It may seem an unusual fit, as DeNoize focuses on soundproofing by counteracting and eliminating sound waves that vibrate particles in glass. Instaid, their 'Ammos' glass speakers generate sound from the vibrating glass, amplifying sounds by applying forces on the edge of a thin glass sheet, causing it to produce medium to high frequencies. A small subwoofer caters to the low frequencies for a fuller sound spectrum. The speaker features WiFi and Bluetooth connectivity as well as USB-C, 3.5mm audio and power ports. More than just a product that plays music, Ammos is an innovative design made from durable, sustainable and high-quality materials – and it's making all the right noises.
INFORMATION
ammos-techlabs.com (opens in new tab)