Wallpaper* heads to Maastricht to bring you the TEFAF fair round-up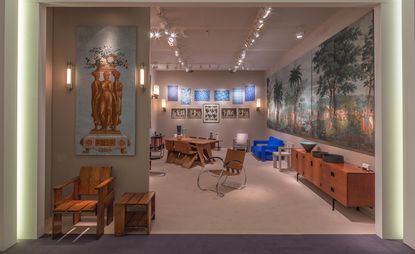 (Image credit: Dealer Frans Leidelmeijer)
TEFAF Maastricht (on view until 20 March) may have started as a small Old Masters paintings fair called Pictura back in 1975 but today it is a broad church. Old Masters are still at the core, but now this gargantuan, high-end fair of 275 exhibitors features everything from antiquities and tribal art to modern art, design and jewellery. Plus a ridiculous number of tulips.

Recognising a need to evolve, in 2009 TEFAF launched a new design section. Although a bijou coterie of only ten booths, quality is high and it reads as a potted survey of international 20th century design from Art Nouveau onwards.

'It's one of the most important fairs that we do and the fact that the design section is so small means that it's the top ten within their fields,' said Dorte Værnø of Copenhagen based Dansk Møbelkunst Gallery on preview day. 'It's an accolade in itself to be invited here – we finally got in after applying for many years'.

This year, Dansk Møbelkunst concentrates on quintessential, instantly recognisable 1950s designs by Danish greats such as Hans Wegner and Finn Juhl. Prices range from €350,000 for a one-off Juhl sofa to €4500 apiece for a set of Arne Jacobsen 'Drawer' units from 1958, designed for the SAS Royal Hotel, Copenhagen. Considering the number of six- and seven-figure price tags around the rest of the fair, much of TEFAF Design looks reasonable.

For mere mortals without a private jet, it's a trek to get to this small Dutch city. Plus, compared to the likes of Design Miami or Design Miami/Basel, at just ten specialist galleries it arguably lacks the critical mass to lure the purist design hunter.

However for many serious art collectors TEFAF is an annual pilgrimage – this year there were over 10,000 visitors for the preview and 7,000 on opening day.

Collectors in other fields filter through and Donald Gajadhar of ceramics specialist Jason Jacques also says this is their best show: 'People here see design through art eyes, not just imagining how it will look in their home as they do design focused events.'

When fashion designer Rick Owens bought a vase from Jacques, the pair started trading pottery for clothes. Owens also designs furniture and Jacques asked him to curate his TEFAF stand, clad in 19th century army blankets, featuring Owens' 'Stag Benches' and abattoir inspired bleached ox-bone chairs. Central is a one off collection of experimental late 19th century ceramics by Pierre-Adrien Dalpayrat, built up over 20 years and described by Gajadhar as 'the best collection of Dalpayrat you will ever see'.

Following their acclaimed stand of Shaker furniture last year, Laffanour–Galerie Downtown/Paris dedicate a zingy hot pink and orange painted room-set to Mexican architect Luis Barragán. A bookcase that doubles as a room divider and was part of a commission for Casa Pedregal, Mexico City, in 1951, sold for a six figure sum to an American buyer.

More muted is Galerie Ulrich Fiedler's presentation of a set of furniture designed by Alfred Grenander (1863–1931) for his summerhouse in Sweden, Villa Tangvallen, in 1906–07, bought directly from the auction of the villa's contents.

As the design section focuses on established 20th century greats rather than today's emerging designers, so does TEFAF Modern largely offer works by 'classic modern' names rather than cutting edge contemporary pieces. In 2015, to encourage more contemporary galleries and collectors, TEFAF Curated was launched. This year, the installation was entitled 'Show Your Wound', curated by Amsterdam-based Mark Kremer and based around a Joseph Beuys work, featuring works by artists that explore the idea of the wound or trauma.

TEFAF will never be a behemoth of contemporary art to rival the Art Basel franchise, nor offer the range of Design Miami for design enthusiasts. But for those of eclectic interests and open minds, willing to make the trip to this corner of the southern Netherlands, it's a rare chance to see a wealth of museum quality art.
INFORMATION
TEFAF Maastricht is on view until 20 March. For more information, visit TEFAF's website
ADDRESS
Maastricht Exhibition & Congress Centre (MECC)
Forum 100 6229 GV Maastricht