Bent collection: the making of Simon Hasan and Artek's 'Primary Objects' nesting trays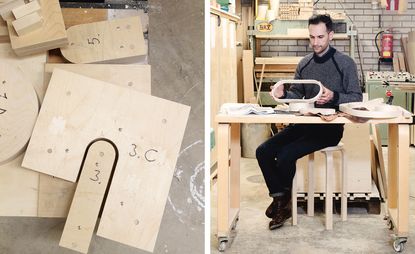 (Image credit: Aino Huhtaniemi)
Taking Artek co-founder Alvar Aalto's traditional wood-bending techniques – using lamella, slim layers of wood that are laminated together and then bent – and his formal vocabulary of organic curves as a starting point, London-based designer Simon Hasan proposed a basic geometry for a family of five tabletop trays in various sizes. These may be used individually or configured together to make storage and display units.
After a visit to the Artek 2nd Cycle store in Helsinki, where the Finnish furniture brand shows pre-owned Aalto-designed chairs, Hasan went on to Artek's workshop in Turku, where all Aalto furniture has been produced since the 1960s. This helped him shape an Aalto-appropriate response to our Wallpaper* Handmade brief (we chose Hasan, with his background in leather, fur, glass and metal, specifically to introduce more wood into his repertoire).
Hasan was keen to establish a logical foundation for the pieces, in terms of how they relate to one another and the Artek brand. 'I wanted to create an architectural system for the objects, so they work as individual items, but also as prefabricated components for something else,' he explains. For Hasan, and Artek's production team, which doesn't usually engage with external designers, development and prototyping then became an exercise in proportion, materiality and detailing.
'I wanted the lamella frames to evidence the process used to make them,' says Hasan. 'The edges are kept clearly defined to emphasise that these are hand-bent strips of solid birch, not CNC-milled blockboard [where softened edges are more common].'
The large tray frame is made from three layers of 2.5mm-thick Finnish birch lamella, which, once laminated together, are bent in moulds. For the prototypes, the smaller trays use birch veneer (which, usually peeled from the tree trunk, is typically thinner and more easily bent than lamella) in order to create the tight curves required using the wooden prototyping moulds. In any production models, specially created, strong steel moulds would enable the use of lamella for all trays.
No Hasan project would be complete without a little skin, and the trays have inserts made of naturally tanned Finnish reindeer hide – in cognac, black, blue and grey – which, the designer says, give 'material interest and contrast'. The leather is bonded under high pressure to the laminate-panel bases.
Artek's managing director Marianne Goebl feels the brand is well matched with Hasan. 'In a very intuitive way, Simon understood what techniques and what kind of typology works well for Artek. The result feels right and appropriate for us,' she says. As for the collaborative experience, 'the project sparked curiosity and energy with our technical teams', she says, 'they got ambitious and proud'.
For Goebl, Wallpaper* Handmade (opens in new tab) was an opening conversation with Hasan. Meanwhile, Artek is evaluating the best way to produce the trays commercially. 'We don't have anything like this in the collection,' says Goebl. 'Now we have to see.' 
As originally featured in the August 2016 issue of Wallpaper* (W*209)
See more from Handmade here and check in to Hotel Wallpaper*…
INFORMATION
For more information, visit Simon Hasan's website (opens in new tab) and Artek's website (opens in new tab)
Photography: Aino Huhtaniemi. Still life: Thomas Albdorf