Wet set: 'Three Isles' birdbaths, by Teo Yang Studio and Huguet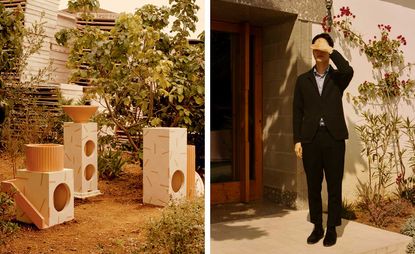 (Image credit: Alex Cascallana)
When we approached Seoul-based interior design firm Teo Yang Studio and Mallorcan tile manufacturer Huguet (both winners in the 2019 Wallpaper* Design Awards, W*239) to create a contemporary birdbath, both parties were intrigued. For practice founder Teo Yang, it was a particular challenge, as birdbaths don't exist in Korea. The initial reaction from his studio was one of delight and surprise ('Do birds take baths?'). Huguet's owner Biel Huguet had a similar response.

The inspiration behind Yang's 'Three Isles' series of birdbath designs plays partly on the theme of this year's Handmade exhibition, love, which led to the idea of love birds. But Yang was also keen to connect the birdbath to Korean traditions, and he looked at the symbolism found in local garden design and the importance placed on connecting nature, people and water.
'Koreans have been making beautiful gardens for at least 2,000 years,' says Yang. 'Three is a symbolic number in Korean garden design – three islands on a lake, and three trees and three rocks on each island, is a design that is often seen in parks, and also serves to create resting grounds for birds and other small creatures.' The importance of encouraging a peaceful co-existence between nature and humans led Yang to the idea of a trio of birdbaths, titled 'Forgiveness', 'Generosity', and 'Kindness', three essential attributes in any loving relationship.

As Yang researched the history of birdbaths, he learned that water cannot be too deep, should ideally flow, and that there is a hierarchy among birds in terms of access, with larger birds, such as crows, pushing out smaller birds. Yang's designs are sensitive to this social construct, with areas laid out for birds of different sizes, giving each group their own domain in which to bathe. This also links to his interest in connecting the birdbaths to Taoism and its principles of simplicity, patience and compassion.
RELATED STORY
Like Yang, who lived in Chicago, LA and Amsterdam before returning to his native Seoul to start his own practice, Biel Huguet is passionate about his cultural heritage. For both parties, there came a point in their careers when they needed to return to their roots. When Huguet took over as head of his grandfather's company in 1997, after working in Barcelona as an architect, he never imagined where it would take him.

'I originally thought about traditions, materials, making by hand, and Mallorcan culture,' he says. 'But we are now producing contemporary tiles with architects and designers such as Herzog & de Meuron, Alfredo Häberli and David Chipperfield, which is incredible. And just when you think you have done so many things, a project like this birdbath arrives and it is a new and exciting challenge for us.'

Yang and Huguet had never met before this commission, but thanks to Instagram and other digital tools, both quickly understood they had a shared concern with heritage. 'Blending cultures, views and traditions is very interesting,' says Huguet. 'It makes us richer with more to contribute.'

Reflecting both a Mediterranean and an Asian heritage in a completely unexpected way, the birdbaths were made using white and peach terrazzo tiles and terracotta-toned bowls and cylinders. Terrazzo has been used for centuries in Mallorca, but is not common in Korea. Yang loved the look of the material, but he had to get to grips with working with it. The terrazzo tiles were assembled to form a cuboid pedestal, with circles cut out, revealing ribbed clay tubes that accommodate a water pipe. A terracotta bowl or cylinder rests on top or to the side of each pedestal.

The finished pieces feel romantic and evocative of the past, like they could have been installed in an 18th century garden, and yet they are also completely contemporary.
As originally featured in the August 2019 issue of Wallpaper* (W*245)
INFORMATION
teoyangstudio.com; huguetmallorca.com
Receive our daily digest of inspiration, escapism and design stories from around the world direct to your inbox
Blaire Dessent is a freelance writer, editor and copywriter specialising in contemporary design, craft, art and travel. She works as the managing editor for TL magazine, a biannual, French/English art and design publication. In 2020 she was an editor and contributor to Imaginings by Kiki van Eijk, published by nai010. She is also the co-owner of The Alameda Shop, a creative lifestyle shop in Mallorca that works with contemporary artists and makers.