Vero: the new Italian brand on a quest for truth in design
Vero is a new furniture brand making its debut in Milan with new works by international designers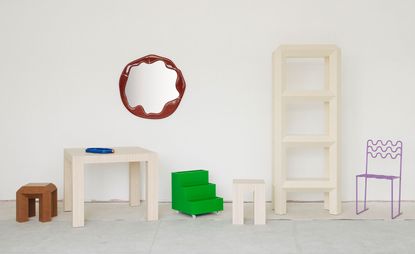 (Image credit: Matteo Bianchessi)
Wallpaper* Newsletter
Receive our daily digest of inspiration, escapism and design stories from around the world direct to your inbox
Thank you for signing up to Wallpaper. You will receive a verification email shortly.
There was a problem. Please refresh the page and try again.
You receive a lovely, crafted packaging at home; it's just a simple poster tube, but you feel that it is made with love. Inside, you find a mirror on paper with a sign in the middle that reads 'Vero'. Then you connect to the website, you see your face on the screen – another mirror by Vero. They also ask you to answer a question: 'what is Vero?' I answered. And I enjoyed the process.
Vero is a fresh new furniture brand, making its debut this month in Milan. Vero, meaning 'true' in Italian, is the project's tagline, suggesting that this brand stands for authenticity and research; something needed in these times of uncertainty. The brand seems to be on a quest for the truth and its nuances. Whether it's a shared, societal or personal, intimate truth, Vero is willing to take on the challenge and bring you on its journey.
Vero: a new Italian furniture brand
The new brand is the brainchild of Pasquale Apollonio, founder of Level Project, who is also in charge of the production, which is based in Galatina, Puglia. 'We consider the local a bridge to reach an international future,' he explains. The brand is already gaining digital momentum; together with creative directors Simona Flacco and Riccardo Crenna (the duo behind Simple Flair), Vero has had people talking online ahead of its launch on 7 April 2022. They told Wallpaper*: 'The creative direction for Vero excites us and stimulates us, it is giving us the opportunity to express the vision that we have for the design industry. We are building a brand that has the ability to produce Made in Italy furniture and accessories, with the involvement of some of the most talented designers in the world, but we are also trying to give one contemporary response to new lifestyles. We have put experimentation and research, communication and products at the centre, but first and foremost we focus on people and their values. We are working to build a brand that generates a sense of belonging, to grasp the demands of society, offering concrete answers to a furniture brand that mirrors our way of living and society.' Asking its audience what is true is giving a voice to a generation of people passionate about design, aesthetics, beauty, and, in this case, the truth too.
Defined by a contemporary approach, Vero reflects a new era of design, one that wants to be transparent, informal and pivotal. It bridges the gap between mass distribution and niche design, its pieces made to transform everyday environments into contemporary spaces. The creatives joining this project's debut are Cara \ Davide, Frederik Paulsen, Marco Campardo, Natalia Criado, Federica Elmo, and a617 for the first drop of the project (on view at Milan's Riviera space, until 4 May 2022), while a second drop is planned to launch during Salone del Mobile 2022, including Odd Matter, Sam Stewart and Zaven. United by a focus on experimentation in materials, processes, and techniques, enriched by personal traditions, the designers create a new, sincere narrative and aesthetic.
On the brand's website and social platforms we are asked: 'what is true?' In our reality and our everyday life, in today's contemporary design, it's one of those existential questions impossible to answer, yet one that continues to spark conversation. Vero is proving to be a truth-seeker, an instigator of such conversations, offering both new points of view and shared beliefs. I have always believed that design is there to raise questions and not just provide answers – so this adventure starts in this way.
INFORMATION
Vero is on view at Riviera Gallery until 6 May 2022
verointernational.com
ADDRESS
Via Gorani, 4
20123 Milano MI
Italy
Receive our daily digest of inspiration, escapism and design stories from around the world direct to your inbox
Maria Cristina Didero is an independent design curator, consultant and author, who has contributed to many publications over the years; she is currently Milan editor of Wallpaper* . Didero has consulted for companies such as Vitra, Fritz Hansen, Lexus, Fendi, Louis Vuitton, Valextra among others. Based in Milan, she works internationally, curating exhibitions for institutions: some of her most recent projects include Nendo: The Space in Between and The Conversation Show at the Holon Design Museum, Israel; FUN HOUSE by Snarkitecture at National Building Museum, Washington D.C.; SuperDesign a project about Italian radical design, NY; Vegan Design, or the Art of Reduction by Erez Nevi and The Fish and The Crowd by Carlo Massoud, Milan. In April 2022 she curated a Mathieu Lehanneur exhibition at the Triennale in Milan called The Inventory of Life, while in July she debuted a project at the MK&G in Hamburg titled Ask Me if I Believe in the Future, alongside a series of ongoing collaborations. She was appointed 2022 Curatorial Director of Design Miami/. She is currently preparing two projects for Milan Design Week 2023.
With contributions from