The inaugural Venice Glass Week celebrates the beating heart of the city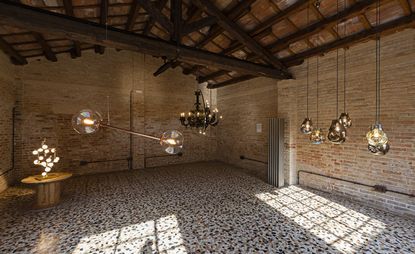 (Image credit: Cristina Galliena Bohman)
Locals say that glass, not blood, runs through the veins of Murano's highly skilled glassmakers, who are notoriously coy about their trade. From the chemical compositions that make up their unique glass to the blowing techniques that are passed down through generations, everything is a closely guarded secret and competition is tough.
This is why, industry insiders say, it has taken the city of Venice until 2017 to establish its first ever dedicated glass week. Running from 10–17 September, Venice Glass Week was a city-wide celebration of the Venetian Lagoon's 1,000-year glassmaking heritage. It's a celebration that is much needed.
Since the 1960s, glass production in Venice has been in decline as markets have shifted. Today, the 60 or so furnaces that populate the city have become more focused on producing one-off bespoke glass art works rather than mass-produced designs that can be made more cheaply in China. Modern technology has not changed production processes at these very traditional furnaces. Work is hard and laborious; with techniques taking years to learn, it has also been increasingly tough to attract young apprentices who are willing to dedicate their lives to the art.
'I think the Venice Glass Week is fantastic,' says Simone Giovanni Cenedese, one of Murano's youngest maestri. 'I think it's a very good idea to promote glass collectively. A lot of companies have been interested [in the Glass Week] and I've been surprised. I didn't think that they would be that open. The participation has been impressive.'

During the inaugural Venice Glass Week, 150 events took place across the city including exhibitions, seminars, workshops, activities and performances – a busy programme that was made possible thanks to the cooperation of three of Venice's principal cultural institutions: the Fondazione Musei Civici di Venezia; the Fondazione Giorgio Cini; and the Istituto Veneto di Scienze, Lettere ed Arti. Also involved were the guardians of original Murano artistic glass production, the Consorzio Promovetro Murano.
INFORMATION
For more information, visit the Venice Glass Week website (opens in new tab)