Twisted domesticity: Studio Job gets MAD in New York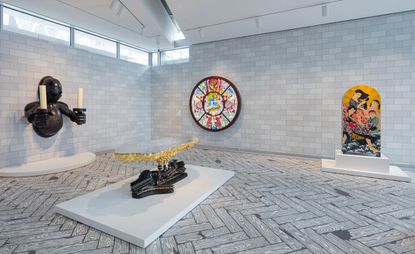 (Image credit: Butcher Walsh & MAD)
Walking into the the fourth floor of New York's Museum of Arts and Design, you might think you've entered some kind of overly opulent funhouse – and you wouldn't be too far off. Aptly titled 'Studio Job MAD HOUSE', the new exhibition is the work of Job Smeets and Nynke Tynagel, the duo behind the titular Antwerp-based studio.

Characterised by pattern, humour and somewhat excessive ornamentation, the work of Studio Job is in full force for this latest exhibition; from a 12-foot tall clock featuring a cast-bronze King Kong dripping in 120,000 Swarovski crystals to a table of gold-gilded banana lamps. A mixture of special commissions and self-initiated works, pieces are presented as if they were arranged in the home of an art collector, referencing themes of arts patronage, collecting and display.

'This is the first time we've had a museum exhibition where the works were not organised in chronological order,' Smeets says. 'You can literally see a 2015 piece next to a 2000 piece, so you can see how we lost our naiveté... or how it got worse,' Tynagel adds.

Adding to the feeling of wandering around someone's home, Smeets and Tynagel used custom wallpaper and floor coverings (named 'Wall' and 'Floor', respectively) to mimic archetypical cement brick walls and an oak parquet floor.

'Part of what Studio Job wanted to impart is that people can have their own experience about collecting, about domesticity,' says Ronald T Labaco, the Museum of Arts and Design's Marcia Docter senior curator. 'The works are in very general groupings, so visitors can draw their own conclusions.'

'Studio Job MAD HOUSE' acts a defacto culmination in Studio Job's trend for curating exhibitions of their own work dating back to 2009's 'Studio Job Gallery', and 2011's 'Studio Job Lounge' and 'Studio Job House'.
INFORMATION
'Studio Job MAD HOUSE' is on view until 21 August. For more information, visit the Museum of Arts and Design's website (opens in new tab)
ADDRESS
Museum of Arts and Design
2 Columbus Circle
New York, NY 10019
VIEW GOOGLE MAPS (opens in new tab)