Into orbit: Salone Satellite's founder marks 20 years of boosting young careers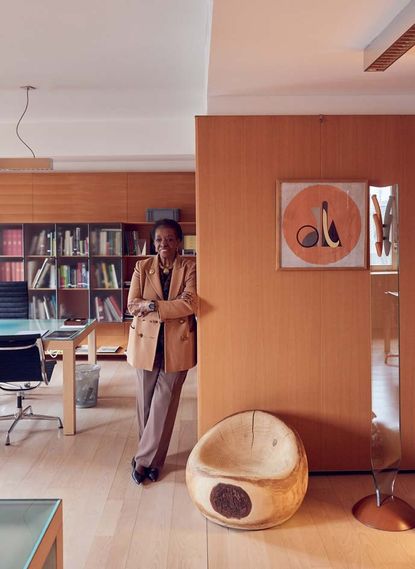 (Image credit: Danilo Scarpati)
Hundreds of shows and exhibitions come and go at Milan's Salone del Mobile. Design districts rise up, gaining status as the latest must-see destinations, before being usurped by newer, more vibrant happenings. As we know at Wallpaper*, maintaining a reputation for excellence for more than 20 years is no easy feat, so we're raising a glass to Salone Satellite, the young designers' fair celebrating its 20th outing this year.

Since its launch in 1998, more than 10,000 designers have passed through the doors of Salone Satellite, including Nendo, Matali Crasset, Front, Sebastian Herkner, Paul Loebach and Nika Zupanc, all of whom acknowledge the role that the fair and its founder, Marva Griffin Wilshire, have played in their success. Born in El Callao, Venezuela, Griffin Wilshire moved to Milan in the late 1960s, landing a job as assistant to Piero Ambrogio Busnelli, the founder of Italian furniture brand B&B Italia. She gained a design education that money couldn't buy, working with superstars of Italian design such as Mario Bellini, Marco Zanuso, Renzo Piano and Tobia Scarpa. After leaving B&B Italia she became a design journalist, working as Milan correspondent for various Condé Nast publications; she later spent eight years directing textile show Incontri Venezia.

Over the years, Griffin Wilshire became an eagle-eyed talent spotter, frequently visiting international trade shows and events to find the next big names. On a sunny day in November 1997, Manlio Armellini, then head of Cosmit, the organiser of Salone del Mobile, came to Griffin Wilshire with a proposition. 'He asked me to try to organise something for young designers,' she recalls. 'At that time, young designers were exhibiting in "underground" places spread all around Milan. I thought it would be a great idea to gather them all together in a visible way, so that manufacturers – who are always busy working, with no time to go around [the fair] – could discover them easily.'

Space was found in Pavilion 9 at Fiera Milano City, which the played host to Salone del Mobile. 'I did not envision anything at all,' says Griffin Wilshire of Satellite's 1998 debut. 'The only thing I was sure of was the fact that young designers needed to be helped.' She enlisted her network of contacts to spread the word about the new show. That year, 100 designers became the first to show their work alongside giants such as Poltrona Frau, Flos and B&B Italia. In addition, Griffin Wilshire extended the invitation to seven design schools and universities across the world, which selected their top graduates to exhibit. Today, 17 design schools participate in the fair, while the number of designers has climbed from 100 to 650.
(opens in new tab)
The rules are few and simple: designers must be under 35, not affiliated with a manufacturer and can exhibit at Satellite up to three times. Each application is scrutinised by a panel of discerning judges, which this year includes designers Davide Groppi and Matteo Thun, Poliform chief executive Giovanni Anzani and design critic Corinne Julius, among others. The chosen few get the opportunity to put their work in front of the industry's biggest players, who, with a bit of luck, will offer them a job or snap up their prototypes for production.

'Many of them write to me telling me of their achievements,' says Griffin Wilshire. The fair has debuted a number of designers who are now international stars. 'Think of Nendo and Sebastian Herkner, for example.' German designer Herkner secured a booth at Satellite in 2009; he showcased a coffee table prototype with a distinctive bell-shaped glass base. The design attracted the interest of German manufacturer ClassiCon, which put it into production in 2012 – the table became the brand's bestselling piece of contemporary furniture. 'Marva is an incredible and unique personality with a huge passion for design and her young designers,' says Herkner.

Norwegian designer and fellow Satellite alumnus Daniel Rybakken agrees: 'Marva has always been very kind to me. Her true goal is to help young designers get noticed and she has a long list of well-known international designers that have her to thank for that. My whole career was started at Satellite. I went down to Milan as a student in 2008 and came home with a full page in Wallpaper* and over ten pages in Abitare. If you do something good at Satellite, the right people will notice it.'

Last year, Basel-based American designer Ini Archibong showcased his work at Satellite for the first time after a meeting with Griffin Wilshire in 2012. 'It took me four more years before I felt ready to present myself,' recalls Archibong. 'I would see Marva at various design events, where she always offered words of encouragement.' When Archibong finally presented his collection at Satellite 2016, Griffin Wilshire sent a steady stream of manufacturers to his booth and he scored a number of design contracts. 'I owe a great deal to Marva and Satellite, and I consider myself blessed to have come in contact with such a powerful design gatekeeper.'

As well as the young designers that she nurtures, Griffin Wilshire has fostered close connections with manufacturers. 'Marva has an open and curious eye on the international design scene and accurately scouts upcoming talents,' says Amélie du Passage of French brand Petite Friture, which recently launched the 'Hoff' sofa by Norwegian duo Morten & Jonas – a design spotted at Satellite 2014.

'The real role is played by the Italian furniture industry,' says Griffin Wilshire, perhaps a little humbly. 'Nowhere else is there a fair in one city and the furniture industry in the same country.' Even in today's connected society, where talent scouts can travel the world online, Satellite still holds a unique power. 'Perhaps more so today than when it started,' says Rybakken. 'Today, so much is just "likeable" Instagram photos and 3D renderings on design blogs. It makes the physical prototype very powerful.' Nika Zupanc, who showcased her work in 2006 and 2007 and now works with brands such as Sé and Qeeboo, agrees. 'I visited Salone del Mobile each year as a student and, at a certain point, it seemed most natural and logical to plan my first ever exhibition there. Milan is still the most powerful platform in furniture and lighting design – you really know where you stand, once the fair is over.'

This year, Satellite is inviting some of its brightest stars from the past two decades to participate in a major exhibition, curated by architect Beppe Finessi at the Fabbrica del Vapore. Finessi says that 'reading the list of participants from these 20 years is like browsing an encyclopaedia of the history of creativity in the third millennium'. Featuring more than 100 designers, the show is an anthology of pieces discovered at Satellite and put into production. In addition, Griffin Wilshire has put together the 'Salone Satellite 20 Years Collection', a showcase of specially commissioned pieces by established designers whose careers began at Satellite.

Griffin Wilshire is optimistic for the fair's future. 'I will not be involved in another 20 years, but I will always hope that young designers can find their way. I'm sure the Salone Satellite will evolve and continue to be innovative, as it has since its beginning.'

As originally featured in the May 2017 issue of Wallpaper* (W*218)
INFORMATION
For more information, visit the Salone Satellite website (opens in new tab)